Call Back for Peoples' Friendship University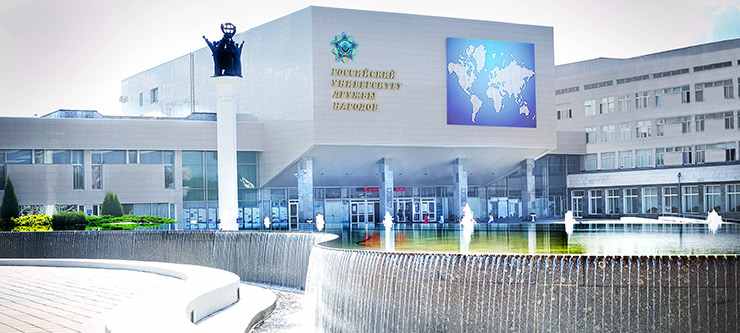 The Peoples' Friendship University, Russia is a public or government medical university established in 1960. It is also known as RUDN University and is considered amongest the best educational and research universities in Russia. The Peoples' Friendship University is located in Moscow, the capital city of Russia. RUDN University has more than 20,000 students.
Peoples' Friendship University is popular among Indian students as many parents/candidates prefer to take admission in Moscow. However, the fees is on the high side when compared to the fee structure of many other universities teaching MBBS in Russia and therefore, the number of Indian students in RUDN University is less.
Here is an overview of Peoples' Friendship University:
| Topic | Description |
| --- | --- |
| Duration | 5.8 years |
| Medium of Instruction | English |
| Do I need to learn the local language? | Yes, the university will give classes for the local language from the 1st year itself. |
| Climate | The temperature will be below 0° in December, January and February and between 5°-25° during the rest of the year. |
| MCI recognised university? | Yes |
| Type of University | Government |
| WHO recognised | Yes |
| IELTS/GMAT/TOEFL requirement | No |
| Dominant Religion in Russia | Christianity |
| Degree Name | MD (Physician) equivalent to MBBS in India |
Peoples' Friendship University FMGE Result
As mentioned before, the number of students taking admission in Peoples' Friendship University is low as the fees is on the higher end. Global Medical Foundation will now present data of the number of students who have passed FMGE or the MCI Screening Test after graduating from RUDN University. This data has been taken from the information given by the National Board of Examination (NBE).
Between 2012-14:
| | | |
| --- | --- | --- |
| Appeared | Passed | Pass % |
| 56 | 10 | 17.9% |
Between 2015-18:
| | | |
| --- | --- | --- |
| Appeared | Passed | Pass % |
| 41 | 9 | 21.95% |
Overall, the result can be considered as good, however, the number of students taking admission in Peoples' Friendship University is less. In case you are looking for an option where the result has been excellent and the fees is very less, then we will suggest the following universities:
Peoples' Friendship University campus is situated in southwestern part of Moscow which is one of the most beautiful and ecologically clean places of the city. There are 20 teaching blocks and 13 dormitories on the Mikluho-Maklaya Street.
More than 8,000 students and PhD candidates live in apartments with every convenience — bath-room, kitchen, internet connection. There is a laundry and ironing table provided to the students, also study hall is present in every building. Fire protection and twenty-four-hours CCTV system ensure safety of the campus. What makes it very comfortable for the students is that all the buildings located in the campus are situated in close proximity to each other.
There are excellent opportunities for a full life in the campus: stores and branch bank, barbershops, a dry-cleaner, parking lots and car service centre. After classes students can relax in different cafes and restaurants, enjoy their authentic national cuisine — African, Arab, Indian, Russian, Chinese, Georgian. The great fountain at the central square of the University is considered as a "heart" of the campus.
RUDN campus safety & security

– Modern fire protection and security systems.
– RUDN buildings and facilities electronic control access system.
– 24/7 intelligent video surveillance system: territorial coverage of video monitoring through 2,000 video cameras.
Peoples' Friendship University of Russia Ranking
Peoples' Friendship University of Russia ranking is very high as it ranks 392 as per QS Rankings for 2020.  However, as stated by Global Medical Foundation on several occasions, these world rankings have no relevance while selecting the medical university for MBBS abroad. The rankings which Indian students should be checking is the MCI result.
QS Rank

QS World University Rankings

392 Place in International Rankings

QS Rank

QS Graduate Employability Rankings

301-500 Place in International Rankings

THE WUR

Time Higher Education World Ranking

801-1,00 Place in International Rankings

Uni Rank

4icu.org

923 Place in International Rankings

RUR (Rus)

Russian University Ranking

8 Place in Russia
Faculties and Institutions at RUDN
People Friendship University of Russia has the following departments:
Faculty of Economics
Faculty of Humanities and Social Sciences
Faculty of Science
Ecological Faculty
Faculty of Russian Language and General Educational Disciplines
Philological Faculty
The university also has the following Institutions:
Institute of Medicine (in which the General Medicine course is included)
Institute of World Economy and Business
Hotel Business and Tourism Institute
Law Institute
Institute of Biochemical Technology and Nanotechnology
Institute of Space Technology
Academic Research Institute of Gravitation and Cosmology
Institute of Foreign Languages
Agrarian and Technological Institute
MBBS at Peoples' Friendship University of Russia
The General Medicine course taught at RUDN comes under the Institute of Medicine. It is a 6-year full-time course which is taught in English language to Indian students. The tuition fees for international students is set at US $ 8,500 per year or INR 6.10 lakh per year.
The structure of this programme includes a compulsory (basic) part and a part formed by the participants in the educational relations (optional part).
Disciplines (modules) related to the basic part of the programme:
philosophy,
bioethics,
history,
history of medicine,
jurisprudence,
foreign languages,
Latin language, physics,
mathematics,
medical informatics,
chemistry,
biology,
human anatomy,
histology,
normal physiology,
biochemistry,
general pathology and pathophysiology,
microbiology,
immunology,
faculty therapy,
neurological diseases,
pediatrics,
obstetrics and gynecology,
urology,
otorhinolaryngology,
ophthalmology,
hospital surgery and therapy,
oncology.
Disciplines (modules) related to its optional part are – bio-organic chemistry, molecular biology and physiology, medical elementology, reproductive health, evidence medicine, telemedicine, maxillofacial surgery, endoscopic urology, etc..
Internship
Educational and on-the-job internships are held in the university's Simulation Training Center, University clinics and multi-speciality departments of Moscow city clinical hospitals equipped with modern medical equipment where students acquire and consolidate basic practical skills.
RUDN students have the opportunity to undertake internships abroad. There is an experience of internship in Hungary.