Get a Call for Complete Information on MBBS in Kazakhstan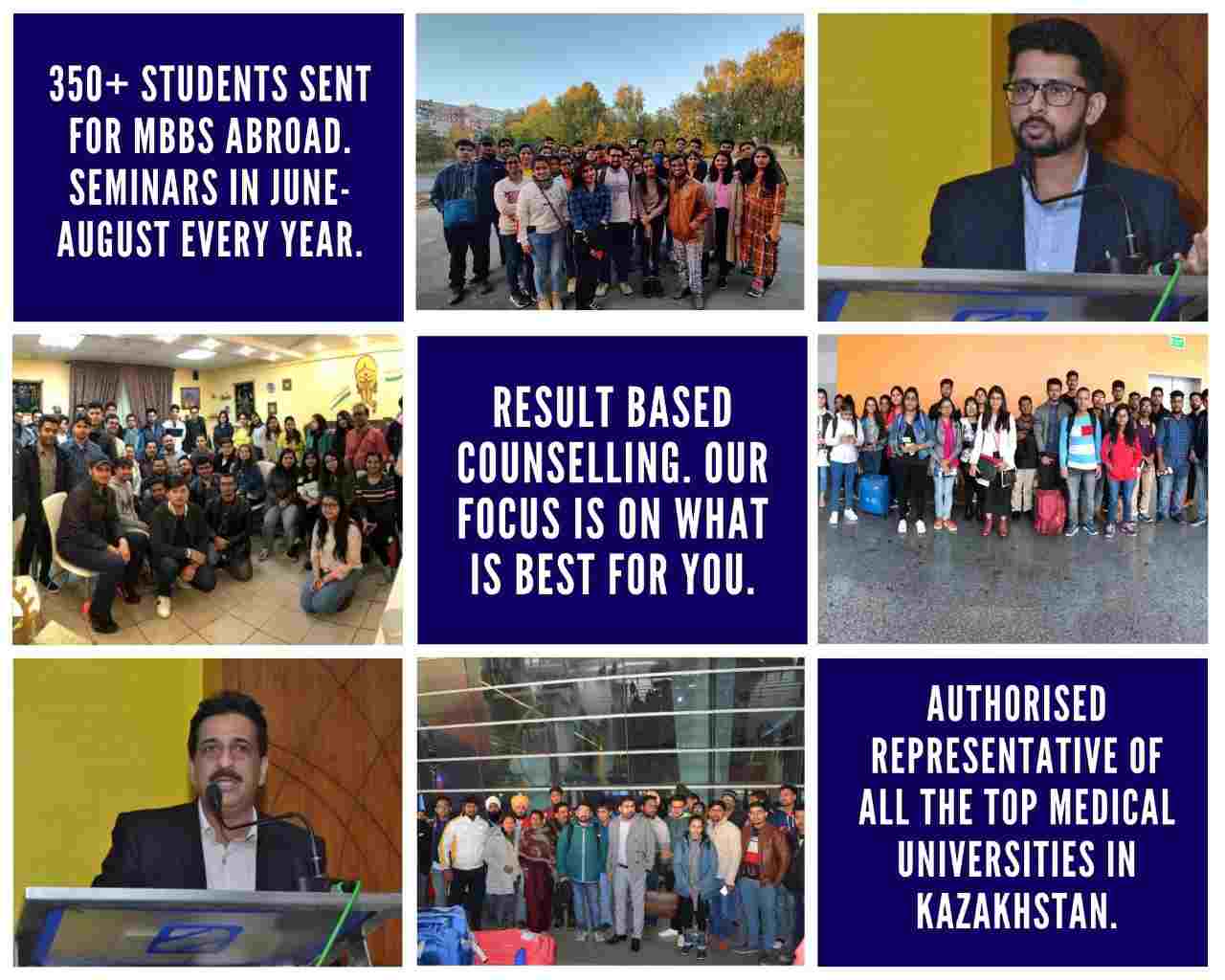 You will learn about the following topics on this page on MBBS in Kazakhstan:
MBBS in Kazakhstan
has been one of the popular options for Indian students. Why? Because the course duration for MBBS from Kazakhstan is just 5 years. Also, the overall budget required to study MBBS in Kazakhstan is very less. It is cheaper to study in Kazakhstan when compared to countries such as Ukraine, Bangladesh, the Philippines. A good number of Indian students are now choosing to study MBBS from Kazakhstan. Moreover, with the outbreak of coronavirus in China, students now want an alternate with good infrastructure, low fee and 5 year duration. The option of Kazakhstan is good for such students.
Kazakhstan is one of the 10 countriees from which more than 1,000 students appeared for FMGE between 2015-18. A large number of Rajasthani students go to Kazakhstan for MBBS. Kazakhstan has both government and private medical colleges and some are ranked among the top 250 colleges in the world. However, we need to look at the quality of education for an Indian student after MBBS from Kazakhstan.
MBBS from Kazakhstan FMGE passing percentage (2015-18) = 10%. At the end of the day, all that matters is whether you have cleared FMGE (now NEXT) or not and Indian students have been passing this exam at a better ratio from countries like Ukraine, the Philippines, Bangladesh.
We would recommend MBBS in Ukraine, Russia or Bangladesh rather than MBBS in Kazakhstan as the FMGE passing percentage is higher in other countries. For students who still want 5 year duration and low fee, then the best bet is Kazakhstan.
Facts about studying MBBS from Kazakhstan:
| | |
| --- | --- |
| Duration | 5 years |
| Medium of Instruction | English medium for full course |
| Need to learn the local language? | Yes, the university will give classes for the local language from the 1st year itself. |
| Climate | The temperature will be below 0° in December, January and February and between 5° to 25° during the rest of the year. |
| MCI recognised universites | Yes |
| Type of Universities | Both Government and Private |
| IELTS/GMAT/TOEFL requirement | No |
| Do I need to qualify NEET for Kazakhstan MBBS? | Yes |
| Budget Required | Low |
| WHO recognised universities? | Yes, search the world directory |
QUICK LINKS: Top 3 universities to study MBBS in Kazakhstan:
Kazakhstan is a country in Central Asia. The Official languages of Kazakhstan are Kazakh and Russian. The country shares borders with Uzbekistan, Turkmenistan, Russia, China, and Kyrgyzstan and also adjoins a large part of the Caspian Sea. Direct non-stop flight is available from Delhi to Almaty in Kazakhstan and duration is only 3 hours 45 minutes.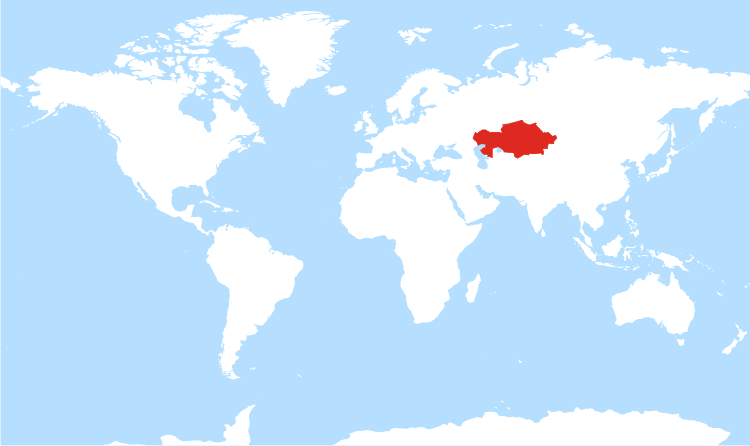 Kazakhstan is the world's largest landlocked country and the 9th largest country in the world. The population of Kazakhstan is about 1.78 crore people. The major religion in Kazakhstan is Islam which is followed by 70% of the population followed by Christianity which is practised by about 26% of the population. The Kazakh language is the state language, and the Russian language has equal official status for all levels of administrative and institutional purposes. Kazakhstan is a member of the United Nations, WTO, CIS, the Shanghai Cooperation Organization (SCO), the Eurasian Economic Union, CSTO, OSCE, OIC, and TURKSOY.
The capital city of Kazakhstan is Astana. The currency of the country is Tenge. Many students choose MBBS in Kazakhstan as it offers a low cost and high-quality MBBS course. Also, the currency of Kazakhstan, Tenge is weaker than INR. Here is an overview of Kazakhstan:
| | |
| --- | --- |
| Official Languages | Kazakh, Russian |
| Capital | Astana |
| Currency | Tenge |
| Exchange Rate | ₹1 = 5.22 Tenge |
| Population | 1.78 Crore |
| Time Difference from India | +30 minutes from India |
| Type of colleges | Both Private and Government |
| Duration | 5-years |
| Medium of Instruction | English, student will be taught the local language. |
Kazakhstan is a Muslim dominated country. As per the 2009 census:
70% of the population practice Islam
25% of the population is Christian
Rest 5% is a mix of other religions or atheists
Kazakhstan has an 'extreme' continental climate, with warm summers and very cold winters.
Average daily maximum and minimum temperatures for large cities in Kazakhstan
| Location | July (°C) | January (°C) |
| --- | --- | --- |
| Almaty | 30/18 | 0/−8 |
| Aktobe | 30/18 | −8/−16 |
| Astana | 27/15 | −10/−18 |
| Karaganda | 27/14 | −8/−17 |
| Pavlodar | 28/15 | −11/−20 |
| Shymkent | 32/17 | 4/−4 |
MBBS Course duration in Kazakhstan
The course duration for MBBS in Kazakhstan is 5 years. The last year is internship which has to be done in Kazakhstan.
After the completion of the 5 years, you will get your MBBS degree. After this, you can come back to India and sit for the screening test which will be NEXT. On clearing the screening test, you will get a license to practice as a doctor here. You can also appear for exams such as USMLE and PLAB if the university you selected is WHO recognised.
Medium of Instruction while studying MBBS in Kazakhstan
The entire course will be taught in the English language.
You will be taught the local language also.
There will be not extra charges for the language course.
The local language is required for 2 things: for interaction with the patients during hospital visits and for day to day interaction with the locals while shopping, taking taxi, etc.
MBBS in Kazakhstan Eligibility
The following is the minimum MBBS in Kazakhstan eligibility criteria for admission of an Indian student in Kazakhstan as on the date of writing this answer:
There is no entrance exam in India like IELTS/SAT, etc.
The student must be 17 years plus as on 31st December of the year in which the admission is being taken.
The student must have completed class 12th from a regular board.
The student must have an aggregate of at least 50% in Physics, Chemistry and Biology and must have English as a compulsory subject if the student is from the General category.
The student must have an aggregate of at least 40% in Physics, Chemistry and Biology and must have English as a compulsory subject if the student is from SC/ST/OBC.
You need to qualify NEET from 2018 onwards for admission in any country in abroad. NEET result is valid for a period of 3 years for studying MBBS abroad.
Some colleges will require a higher aggregate percentage in class 12th. Please contact Global Medical Foundation for more information.
I want to settle abroad after completing MBBS from Kazakhstan, do I still need to qualify NEET?
Yes, qualifying NEET is still required for MBBS admission in Kazakhstan as without the NEET result, none of the universities will issue the admission letter.
When does session starts and when to apply?
The best time to apply is right after getting your NEET results. Please note that admission is possible for only those who qualify NEET.
The sessions starts in September while the students can reach till late October also.
In some universities, there is an intake for February-March session also.
Admission is on first come first serve basis. The number of seats are limited, therefore, it is best to apply early.
Applying on time will ensure that your admission and visa process goes smoothly and you start your classes on time.
Documents required for Admission in Kazakhstan
You will be required to forward scanned copies of the following documents to Global Medical Foundation for getting the admission letter from a university in Kazakhstan:
10th mark sheet
12th mark sheet
NEET result
Aadhar card / Passport (preferred)
Passport size photograph
After getting the admission letter, we will apply for your visa. For getting the visa, you will have to forward your original documents to us:
10th mark sheet
12th mark sheet
NEET result (print out)
Passport
Passport size photograph
Medical certificate
We will send you a complete list of the documents which will be required for getting your visa from the Embassy. Global Medical Foundation will apply for your visa once you submit the required documents and fees with us.
How do I pay for studying MBBS in Kazakhstan?
For stuyding MBBS from Kazakhstan, you have to finance your education by paying from your pocket or by taking an education loan from a bank in India.
There is no scholarship for studying MBBS from Kazakhstan. Therefore, it is necessary that you plan in advance.
You don't have to pay the entire fees at once. The tuition fees can be paid yearly or semester wise. Hostel fee can be paid yearly and mess fee can be paid monthly.
This means that you can pay the fees easily and in instalments.
You don't have to pay any donation for admission in any university or college in Kazakhstan.
What to check before applying for MBBS in Kazakhstan?
Check the age of the university and when the MBBS program was started there. Try to avoid colleges where the MBBS program was recently started.
How many bathces of Indian students have graduated from a particular university. It is better to go to a college which has the experience of teaching Indian students.
Check the FMGE passing percentage. Universities from where a higher percentage of students are clearing FMGE should be preferred.
You should avoid choosing a university on the basis of World Ranking. It is often misleading.
Check the fee structure and see if it fits your budget. In case you are getting a better option on a similar budget then do look at the other options too.
Syllabus of MBBS in Kazakhstan
Following is how the MBBS subjects are taught in Kazakhstan:
First year: Anatomy, biochemistry, physiology
Second year: Microbiology, forensic medicine, pharmacology, pathology
Third year: ENT, community medicine, ophthalmology
4th year: Anesthesia, radiology, psychiatry, orthopaedics, dermatology
Final year: Paediatrics, general medicine, surgery, obstetrics and gynecology,
Advantages of studying MBBS in Kazakhstan
MBBS in Kazakstan Duration
The duration for MBBS in Kazakhstan is 5 years. This is less than the duration of countries such as the Philippines, Ukraine, Russia, Belarus, Armenia, Georgia. This helps the students to save one year. This one year is more valuable for the students who have a gap after the completion of their schooling.
MCI/FMGE Passing Percentage
Between 2015-18 the total passing FMGE percentage of Indian students after MBBS from Kazakhstan has been approx. 10%.
Low Tuition Fees
The tuition fees for MBBS from Kazakhstan is very low. In comparison to other countries, it is cheaper to study MBBS from Kazakhstan. The fee is lower and the duration is only 5 years whereas it is 6 years in many other countries. You will also save living expenses of 1 year.
Low Living Expenses
Living expenses are also low and the students can get the hostel facility at a very affordable fee.
Safety & Security
Kazakhstan is a safe country and students and parents need not worry about the overall safety of students in Kazakhstan. In all universities recommended by the Global Medical Foundation, there will be some Indian person who will help the student in their day to day life.
Easy Visa Process for MBBS in Kazakhstan
Getting a Visa is easy for Kazakhstan. The visa process is short and simple. Also, Indian students are welcomed in Kazakhstan. Global Medical Foundation will assist you and will get your Visa done.
MBBS in Kazakhstan Degree is recognised Worldwide
The degree of the universities in Kazakhstan is recognised by Medical Council of India (MCI) and World Health Organisation. This means you are eligible to sit for the Screening Test in India and other exams such as USMLE, PLAB. However, we suggest you to contact us to know about the recognition of different universities.
Disadvantages of studying MBBS in Kazakhstan
There is no country where there aren't any disadvantages for studying MBBS. Even the colleges in India are not perfect. However, when choosing a medical college abroad, it is important to know what can go wrong. We at Global Medical Foundation do not shy away from sharing the disadvantages of studying MBBS in Kazakhstan. You can read about the genuine disadvantages of studying MBBS from Kazakhstan here –
Climate: The weather in Kazakshatn won't suit everyone. The temperature will fall below zero degrees for about 3 months every year. Snowfall is common in the months of December to February. In some cases, students find it difficult to settle down in Kazakhstan due to the cold weather.
Low FMGE passing percentage: Between 2015-18, Kazakhstan had an FMGE passing percentage of about 10%. This is lower than the passing percentage of countries such as Ukraine, Russia and much lower than the Philippines and Bangladesh.
Many universities have just started MBBS course: A lot of the universities or colleges in Kazakhstan have just started teaching MBBS. Even though these might be old universities, but it is always better to take admission in the colleges which has an experienced faculty.
Availability of better options at the same budget: The budget of some universities in Kazakhstan reaches approx. ₹25 lakh. This is almost the same budget as MBBS in Ukraine or MBBS in Russia. This is one of the biggest disadvantages of MBBS in Kazakhstan. Most students are unaware of this fact and are not guided properly by other consultancies.
FMGE result of Indian students after MBBS from Kazakhstan
Kazakhstan is among the top-10 countries when it comes to the number of students who appeared in FMGE. A large number of Indian students are studying medical in Kazakhstan. It popularity continues to be on the rise. However, the result of foreign medical graduates from Kazakhstan has not been up to the mark. Between 2012-14, the result was decent but between 2015-18, the FMGE passing percentage fell sharply.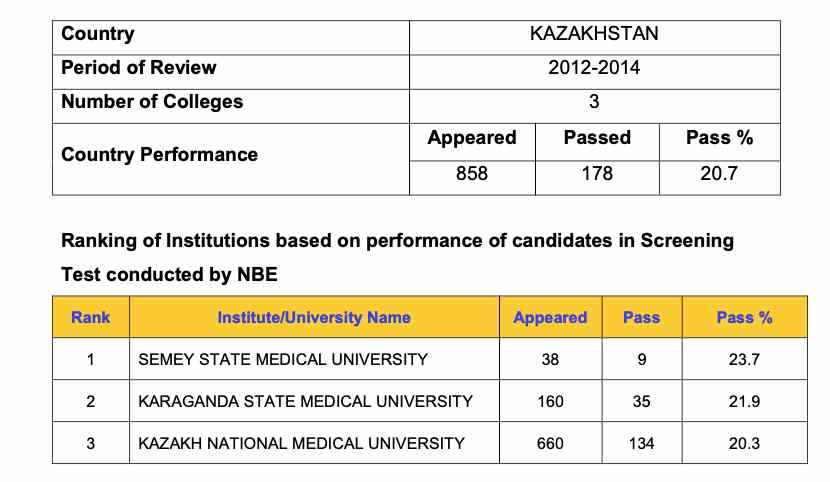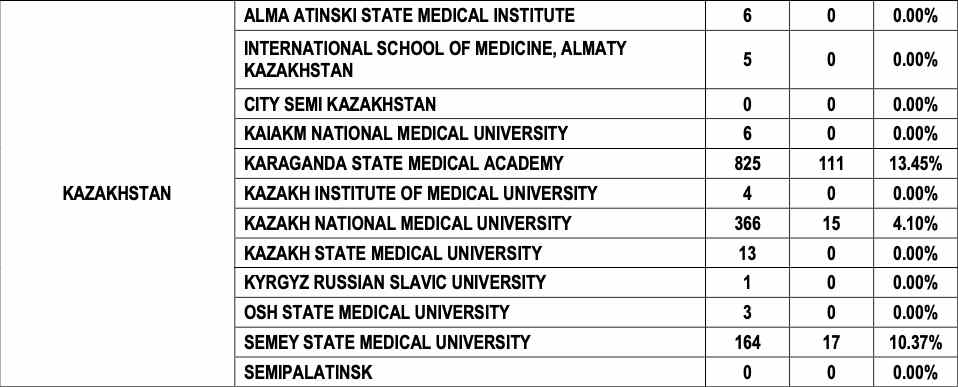 There are a number of reasons why the result has not been good:
majority of students are boards which aren't strong
as the eligibility criteria is relaxed, a majority of the students aren't academically good enough
since there are better options available, most of the academically good students chose other countries like Ukraine, China
as the number if students increased drastically, the quality of education didn't kept pace
However, it is expected that the quality of students going in 2020 will improve as most of the students who chose China might choose Kazakhstan now. The fee is low and the infrastructure is good. FMGE coaching is also now available to the students. With proper guidance, students who come to Kazakhsatn can perform well in FMGE.
MBBS in Kazakhstan Fee Structure
The following is MBBS in Kazakhstan fee structure:
| University Name | Per Year Tuition Fees in US $ | Per Year Hostel Fees in US $ | Total 5 year Fees (Tuition + Hostel) in US $ | Total Tuition + Hostel Fees in ₹ |
| --- | --- | --- | --- | --- |
| Al-Farabi Kazakh National University | 4,200 | 700 | 24,500 | 17,15,000 |
| Kazakh National Medical University | 5,000 | 300 | 26,500 | 18,55,000 |
| Astana Medical University | 3,700 | 700 | 22,000 | 15,40,000 |
| Kazakh Medical University Of Continuing Education | 4,500 | 450 | 24,750 | 17,32,500 |
| Kazakh-Russian Medical University | 4,500 | 650 | 25,750 | 18,02,500 |
| North Kazakhstan State University | 3,500 | 500 | 20,000 | 14,00,000 |
| South Kazakhstan Medical Academy | 3,600 | 600 | 21,000 | 14,70,000 |
| West Kazakhstan State Medical University | 3,800 | 500 | 21,500 | 15,05,000 |
| Karaganda State Medical University | 4,500 | Included | 22,500 | 15,75,000 |
| Semey State Medical University | NA | NA | NA | NA |
| Kokshetau State University | 3,500 | 500 | 20,000 | 14,00,000 |
Note
US $ 1= INR 70 has been used for calculation of fees in the table above. Please use the current exchange rate. Actual fees will be payable as per the exchange rate at the time of payment of the fees.
For eligibility criteria of each university, contact Global Medical Foundation: 9899065852.
Other Expenses
Admission charges extra payable in India.
Mess charges extra.