Get a call for Perm State University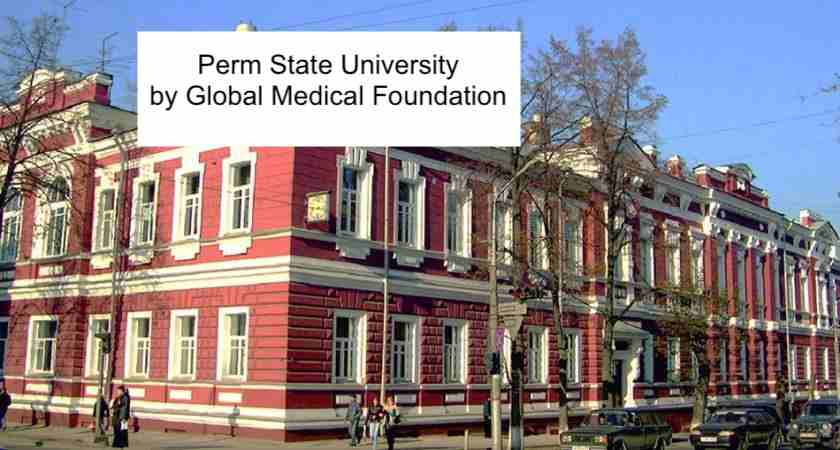 Perm State University is an MCI and WHO recognised medical university and was founded in 1916 during the magnificent era of Russian history. It is a non-profit global organisation created with a noble cause to impart quality education at affordable prices. The legendary and traditional history of Russia is witness to the emergence of this imperial educational institution to enlighten its people with the best set of knowledge and skills. Perm State University has become a world-renowned university and has emerged as a superpower of education.
Having become the first centre of higher education in the Ural region, Perm State University occupies a significant territory from the Volga region to Siberia in the European educational space. Since 2016 the university started providing courses in English. There are around 20,000 students studying at the university with a professional staff of 569 people. International students from 21 different countries also study here.
Perm State University Duration
MBBS in Russia duration is of 5+1 year, which makes it a total of 6 years. It is actually a combination of first 5 years of classroom learning and then 1 year of apprenticeship. During this span of time the university provides maximum exposure to the students to learn and grow. 
After completing the course and getting your degree, you can come back to India and sit for the licensing exam.
Perm State University Eligibility
Following is the eligibility criteria for admission in Perm University –
| | |
| --- | --- |
| Entrance Exam in India | There is no entrance exam in India like IELTS/SAT, etc. NEET qualification is must. |
| Age | The student must be at least 17 years old as on 31st December of the year in which the admission is being taken. |
| Board | The candidate must have completed class 12th from a regular and recognised board. |
| Marks for General Category students | The student must have an aggregate of at least 50% in Physics, Chemistry and Biology and must have English as a compulsory subject. |
| Marks for Other Category students | The candidate must have an aggregate of at least 40% in Physics, Chemistry and Biology and must have English as a compulsory subject. |
| NEET | You need to qualify NEET from 2018 onwards for admission in abroad. NEET result is valid for 3 years from 2018 onwards for MBBS abroad admission. |
Perm State University Ranking
In 2010 Perm State University was assigned the status of National Research University, glorifying its image as one of the leading Russian universities. It is famous for being a multidimensional university as well. The wide variety of educational programs in human and natural sciences are provided in such attractive fields such as Microbiology, Pharmacy, Tourism, Economic geography, Computer science, etc.
As per 'roundranking.com', Perm State University ranking is 780 in the world. 

'timeshighereducation.com' ranks PSU at 201–300th in University Impact Ranking 2019
As per the QS Top Universities, the BRICS Ranking of Perm State University is 156 and EECA University Rankings is 201-210
There were no records found of Indian students appearing or passing FMGE after MBBS from Perm State University between 2012-18.
Global Medical Foundation will suggest that the students must take admission in the universities with a proven track record. We will suggest that the students should choose universities like:
Hostel Facility
Perm State University has 7 student hostels. Facilities provided to students includes rooms equipped with beds, pillows, blankets, 24 hr electricity, central heating system, wifi internet facility. In the dorms they also have the facility of kitchen, 24 hour hot and cold water supply, laundry rooms, rooms for study for training sessions, recreation rooms, gym. All the rooms are fitted with the access to the Internet (including Wi-Fi).
Student life at the Perm State University and also the City of Perm itself is exciting to explore and discover new places to visit. As a rule, the students, live in residential units comprising of 4 rooms, a shower and a toilet. Small kitchen is located on each floor. Two or three students reside in a room.
Climate in Russia
Russia is known for its cold and snowy winters. Perm has a temperate continental climate: winters are by far not as harsh (average day temperature in January is -15 degree C) when compared to the more eastern parts of the country. Summers are usually very sunny and warm, averageing 25 degree C in July-August.
Indian food
The hostels provide authentic and native Indian food cooked by Indian chefs. Therefore, this is not a matter to worry about for the Indian students. Perm State Medical University offers excellent hostel facilities, specially for Indian students travelling for MBBS in Russia. In addition, there are three canteens and twelve buffets at the university. The average cost of lunch is about 100 roubles ($3). Moreover, a new coffee house by the name of 'Old school' was opened in the campus.

University Campus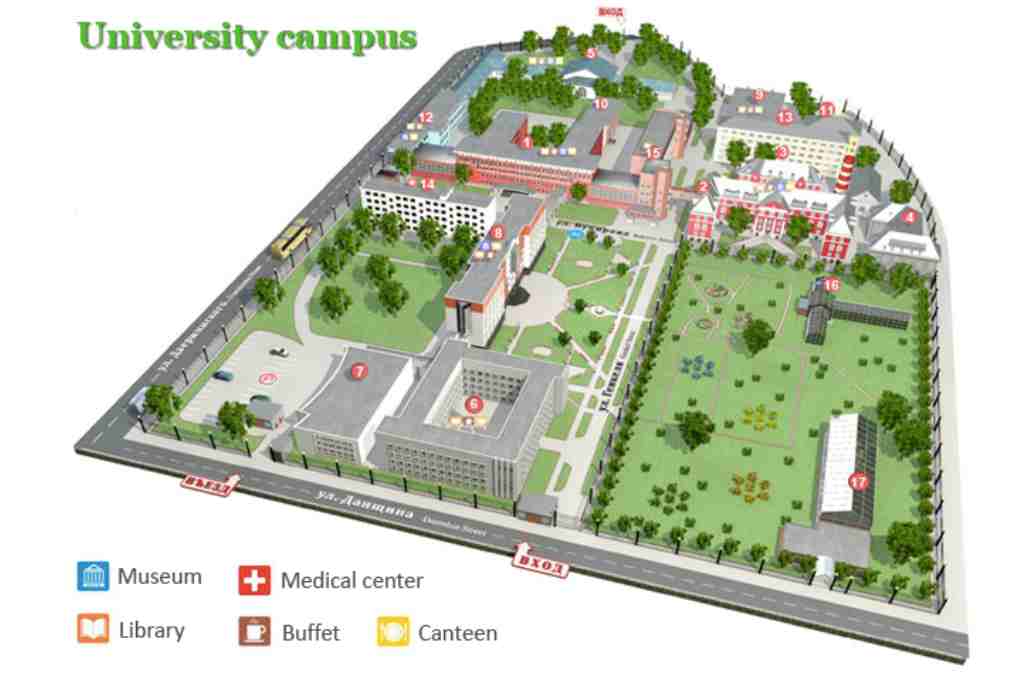 Building 1 – Rector's office, Faculty of Biology, Faculty of Physics, Academic Board Conference Room, Assembly Hall, Martial Art Hall

Building 2 – Faculty of History & Politology, Faculty of Mathematics & Mechanics, Faculty of Philosophy & Sociology
Building 3 – Regional Institute of Continuing Education
Building 4 – College of Information Technology
Building 5 – Admission Department, Faculty of Philology, Faculty of Law, Faculty of Modern Foerign Languages & Literatures
Building 6 – Faculty of Chemistry
Building 7 – Students Palace Culture, Students Union Organisation
Building 8 – PSU's President Office, Faculty of Geography, Faculty of Geology, International Department
Building 9 – Faculty of Law, College of Law
Building 10 – Department of Physical Training & Sports, Sports Club, Gyms
Building 11 – Eatery
Building 12 – Faculty of Economics
Building 13 – Hostel 8, Health & Recreation Centre, Career Advice Centre "Alma Mater'
Building 14 – Hostel 2, Medical Center, Student Hostel Department
Building 15 – Building of the Natural Science Institute, Union Organisation
Building 16 – Botanical Garden
Building 17 – Botanical Garden
Send Scanned Documents – Send Scanned copy of Class 10 mark sheet, class 12 mark sheet, NEET Score Card, Aadhar Card & Passport.
Receive Invitation Letter – The student will receive university issued admission letter through us via e-mail.
Documentation & VISA Processing – GMF will do the remaining documentation and visa processing.
Fly To Destination – The student will be provided with pre-departure training , pick-up service and transport assistance from Russian airport.
Why Global Medical Foundation?
Why choose Global Medical Foundation?
We have sent 350+ students for studying MBBS abroad.
We have sent students from all over India – Delhi, Jharkhand, Bihar, Kerela, Uttar Pradesh, Maharashtra, Rajasthan, Odisha, Jammu & Kashmir, Karnataka, Assam, Goa, Madhya Pradesh, Uttarakhand, Punjab, West Bengal, Haryana, Andhra Pradesh.
Shobhit Jayaswal has visited many universities in Russia.
6-year on-campus support for taking care of students in Russia through Indian representative.
Right experience to provide guidance to Indian students.
Geniune and complete information about Perm State University.
100% visa and admission guarantee.
We can provide reference of students and organize meeting with passed out students.
Perm State University Fees
The following is Perm State University fees –
| | | |
| --- | --- | --- |
| Year | Fees in US $ | Fees in ₹ |
| 1 | 6,500 | 4,55,000 |
| 2 | 5,500 | 3,85,000 |
| 3 | 5,500 | 3,85,000 |
| 4 | 5,500 | 3,85,000 |
| 5 | 5,500 | 3,85,000 |
| 6 | 5,500 | 3,85,000 |
This includes – Tuition fee, Hostel fee, Medical Insurance, Multiple visa & Registration, Documents translation into the Russian language and Notarized fee, Airport pickup and Mobile sim-card, Equivalence certificate fee, etc