In this step-to-step guide about Green Life Medical College, Dhaka, Bangladesh, you will learn about the following things:
About Green Life Medical College
Green Life Medical College, Dhaka, MBBS in Bangladesh, came into existence when the founders of Green Life Hospital decided to start a medical college following the great success of Green Life Hospital which was established in 2005. The college was established in 2009 and started its first batch in 2010. At present, Green Life Medical College enrols 110 students every year including foreign students.
Green Life Medical College (GMC) is approved by the Ministry of Health and Family Welfare (MOHFW), Government of Bangladesh and Bangladesh Medical and Dental Council (BMDC) and affiliated to the University of Dhaka which is approved by the Medical Council of India, this means that Indian students are eligible to apply for NOC from Medical Council of India (MCI) and are eligible to sit for the screening test after graduating from Green Life College.
The medium of instruction is English and the course duration is 5 years. The academic session at Green Life College starts in January every year. Green Life Medical College is one of the best colleges for MBBS in abroad.
Green Life Medical College

Library

The Library of Green Life Medical College is located in the 13th level of the academic section. It is a spacious hall, well and adequately furnished having a cool and silent atmosphere favourable for study. The Library is enriched with a wide collection of text and reference books as well as medical journals to provide current information to the students. It has an easy access system and remains open on all working days from 8.00 am to 8.00 pm.
Digital Library:
Green Life Medical College has a digital section as a part of its library having Computers, scanner, printer, 24 hours high-speed internet access and also photocopier so that the students will get all the facilities near their hands which will save their time and is beneficial for their learning.
Green Life Medical College

Lecture Hall

Lecture Hall:
There are 4 Lecture Halls in Green Life Medical College which are well furnished, centrally air-conditioned and enriched with all the modern audiovisual facilities like multimedia and sound system.
Tutorial Rooms:
All the Tutorial Rooms are spacious and well furnished and equipped with whiteboard and teaching-learning materials.
The Laboratories, Museums and Practical Rooms are equipped with necessary and adequate teaching and learning materials based on the requirements of the different departments.
Green Life Medical College

Cafeteria & Common Rooms
Cafeteria:
A large and spacious cafeteria is located at the level 15. The cafeteria has the capacity and space to accommodate 120 people at a time and provides subsidized breakfast, lunch and dinner for the students and staff of Green Life Medical College.
Common rooms:
Separate common rooms are made for boys and girls students with lavatory facilities. Indoor games are placed in Level 13 of College and Hospital building for the students.
Green Life Medical College

Hospital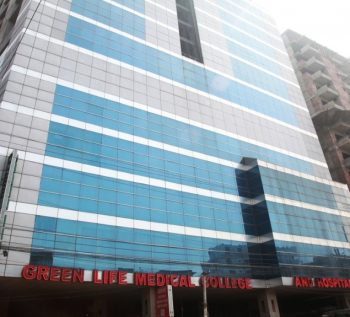 Green Life Medical College Hospital is one of the best in class medical service centre in Bangladesh with 550 beds that started its journey in 2005. It offers special and super-speciality services, including diagnostic facilities to ensure the delivery of holistic patient care. The hospital is staffed with dedicated and trained personnel who work with sophisticated and most advanced equipment.
Green Life Medical College Hospital has fully equipped department including 24 hours Emergency services, Radiology and Imaging, Dialysis unit, Chemotherapy center, Intensive care unit (ICU) with 20 beds, NICU, Joint replacement surgery, Arthroscopy and Arthroscopic surgery, Hand surgery, Laparoscopic surgery, facilities of Endoscopy, Colonoscopy, ERCP and ESWL, a Physiotherapy center and a Rheumatology Research centre.
The Operation Theatre of GMCH is the state-of-the-art complex with 7 hi-tech Operation Theatres with Laminar Air Flow, Recovery room, Delivery room and HDU. The outpatient departments can serve up to 800 patients per day. Besides, free medical service is provided to a good number of poor and needy patients.
Green Life Medical College

Prospectus
Green Life Medical College

Curriculum
PHASE
DURATION
SUBJECTS
EXAMINATION
1st Phase
1 ½ year
Anatomy

Physiology

Biochemistry
First Professional MBBS
2nd Phase
1 year
Community Medicine

Forensic Medicine
Second Professional MBBS
3rd Phase
1 year
Pharmacology & TherapeuticsPathology

Microbiology
Third Professional MBBS
4th Phase
1 ½ year
Medicine & Allied subjects

Surgery & Allied subjects

Obstetrics and Gynaecology
Final Professional MBBS
Green Life Medical College Fee Structure
The total tuition fees of Green Life Medical College is US $ 44,000. Fees payable in the 1st year is US $ 22,000 and the rest will be paid in 4 instalments in rest of the 4 years.
Hostel charges will be US $ 100 per month. Food will be at actual cost.
Check your Eligibility for MBBS in Bangladesh.
Apply now for MBBS in Bangladesh!
Write your query to us, be it College Fees or the Admission Process or anything that you want to be answered, our professional consultants will call you and answer your questions shortly. Global Medical Foundation- Best MBBS Abroad Consultants.