Delta Medical College

MBBS in Bangladesh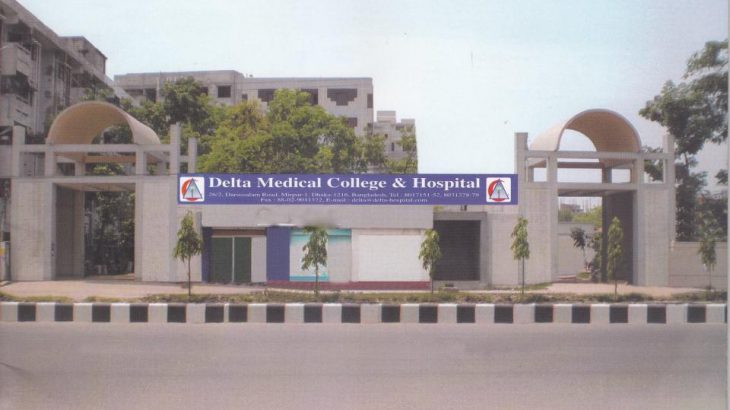 Delta Medical College, MBBS in Bangladesh, was established in 2006 with the aim of producing 'human-doctors' with high moral values and professional excellence. The College offers a five-year degree leading to Bachelor of Medicine and Bachelor of Surgery (MBBS). The course curriculum of Delta Medical College conforms to the requirements of Bangladesh Medical and Dental Council (BM & DC), which is the registering body for doctors in Bangladesh. The Governing Body of Delta Medical College is comprised of representatives from the Ministry of Health and Family Welfare, Dhaka University and Trustee Board.
Delta Medical College is equipped with modern tools and techniques of teaching that are fundamental for a better understanding of the subjects. The college is housed in its own 10 storied building and the hospital is on the same campus. Delta Medical College is approved by the Bangladesh Medical & Dental Council (BM&DC) & Dhaka University. Since Dhaka University is approved by the Medical Council of India (MCI), Indian students are eligible to apply for NOC/Eligibility Certificate from MCI and sit for the Screening Test upon their return to India. The foreign students studying at Delta Medical College are from India, Nepal, USA and Nigeria.
Delta Medical College

Facilities
Four lecture halls
Modern library with internet access
Anatomy museum
Anatomy dissection hall
Histology laboratory
Anatomy laboratory
Physiology laboratory
Biochemistry laboratory
Pathology laboratory
Microbiology laboratory
Forensic Medicine museum
Community Medicine museum
Medical Education Unit and Resource Center
Two common rooms for males and females with indoor games facility
Canteen
Hostel- Accommodation available for male and female students adjacent to
campus for both local and foreign students
Pharmacology laboratory
Pathology museum
Delta Medical College

Library
The library of Delta Medical College is situated on the 7th floor of adjoining college hospital building and remains open from 8:00 am to 8:30 pm.
The library has a sufficient number of text and reference books of different disciplines including the latest editions on all major subjects. It receives 75 titles of current journals including two international journals regularly. All the books are duly classified and catalogued using international rules and code. The library is equipped with full-time internet facilities with easy access to databases like PubMed, Medline, HINARI, AGORA, OARE etc.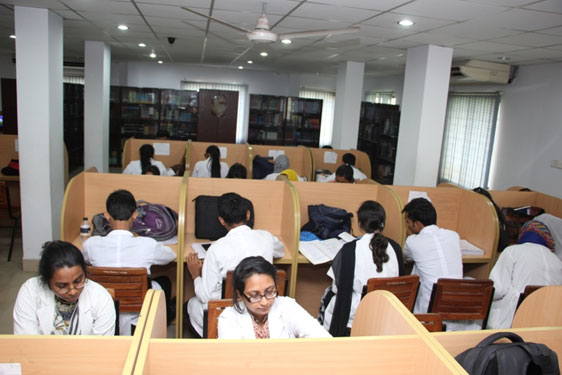 Delta Medical College

Hospital
The Delta Medical College has a 350 bedded modern hospital attached to the college. The hospital is well furnished with treatment & diagnostic facilities. Admission facilities are available in Medicine, Surgery, Gynecology & Obstetrics, Pediatrics, Eye, ENT, Skin & VD, Orthopedics & Oncology cabins & wards. Twenty-four hours emergency service & modern Intensive Care Unit (ICU) are available in this hospital. Outpatient department (OPD) service is available with reasonable fees in the above-mentioned departments from 8.00 am to 2.00 pm. OPD service is conducted by the qualified doctors of different departments & referral service by the specialist is also available on demand. The students from 3rd year undergo clinical training in the wards according to the curriculum by the renowned specialists of the country.
| S.No | Departments | No. of beds |
| --- | --- | --- |
| 1 | General Medicine | 90 |
| 2 | Paediatrics | 30 |
| 3 | Oncology | 20 |
| 4 | Dermatology | 05 |
| 5 | Psychiatry | -- |
| 6 | ICU | 05 |
| 7 | General Surgery | 70 |
| 8 | Ophthalmology | 10 |
| 9 | ENT | 10 |
| 10 | Anesthesia | 05 |
| 11 | Radiology & imaging (Diagnostic & Therapy) | 05 |
| 12 | Orthopedic | 15 |
| 13 | Casualty | 10 |
| 14 | Obstetrics | 40 |
| 15 | Gynaecology | 30 |
| 16 | Antenatal Care | 05 |
| | Total beds = | 350 |
Delta Medical College Fee Structure
The total fees of Delta Medical College for a foreign student is US $ 41,000 including hostel charges. The student will have to pay US $ 19,000 in the first year and the student will pay the remaining fees in 4 instalments in 4 years.
Apply now for MBBS in Bangladesh!
Write your query to us, be it College Fees or the Admission Process or any thing that you want answered, our professional consultants will call you and answer your questions shortly. Global Medical Foundation- Best MBBS Abroad Consultants.