Jalalabad State University
Call Back for Jalalabad State University, Kyrgyzstan admission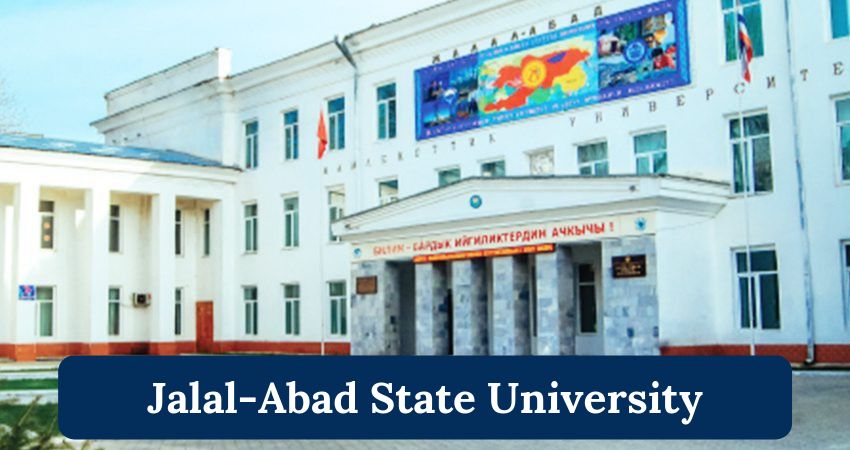 Jalalabad State University is an MCI and WHO recognised government university. It was established in 1993. The university is famous among Indian students who are looking to get quality education at a low cost. The entire course will be taught in English medium. However, it is compulsory to learn the local language. This will be a part of the curriculum itself and there will be no extra cost for the language classes. The course duration is 4.8 years. After completing MBBS from Jalalabad State University, you can come back to India and appear for the screening test.
Jalalabad State University is a classic university. It provides higher education in the following fields:
Medicine
Nursing
Computer science
Mathematics
Physics
Russian Language and Literature
Social sciences and humanities
Kyrgyz language and literature
Biology
English
Physical education
Pedagogy and psychology
Ecology
Mechanics
Forestry and Park services
Chemistry
Food technology
Industrial Water Engineering
Construction and civil Engineering and instrumentation
Chemical engineering
Electricity and Power Engineering.
The university is located in Jalalabad which is about 630 km away from Bishkek, the capital of Kyrgyzstan. Indian students can take a flight from Delhi to Bishkek and then to Jalalabad. The flight time is about 50 minutes only from Bishkek. The reason for selecting this university is that the overall budget is very low and is one of the cheapest options for MBBS in abroad. The other options for cheap and best MBBS abroad are Asian Medical Institute and Osh State University. The best university in Kyrgyzstan is Kyrgyz State Medical Academy.
Here is an overview on Jalalabad State University, MBBS in Kyrgyzstan:

| | |
| --- | --- |
| Type | Government |
| Tuition Fee per year | US $ 3,000 |
| Osh State University location | Jalalabad, Kyrgyzstan |
| Time difference | -0.5 hours from India |
| Year Founded | 1993 |
| Course Durattion | 4.8 years |
| Medium of instruction | English |
| Need to learn local language? | Yes |
| MCI & WHO recognised? | Yes |
| Indian students | 500+ |
In this page about Jalalabad State University, you will get to know about the following:
MBBS in Jalalabad State Medical University
MBBS in Jalalabad State Medical University is becoming increasingly popular among Indian students due it its commitment of delivering quality education at a very low cost. The degree awarded after completion of the 5-year course is called MD which is equivalent to MBBS in India. The student can practice in India after clearing the screening test. The medium of instruction will be English for the entire course duration, however, the students will be taught the local language. It is taught so that Indian students can easily communicate with the locals during hospital visits. Learning the local language will also help the students in day to day activities.
Compared to other universities in the Eurasia region, the medical faculty of Jalalabad State University puts more focus on the clinical practice of its students. The students get hands-on practice at the university's clinical hospitals: Jalalabad Provincial Headquarters Hospital, Jalalabad City Hospital and other hospitals associated with the faculty of medicine of Jalalabad State University.
The students have the opportunity to gain a deeper knowledge of paediatrics through the Faculty of Medicine. Placement to patient clinical care, internal diseases, surgery, obstetrics and gynaecology are also included in the teaching process where theoretical knowledge will be supplemented by practical skills.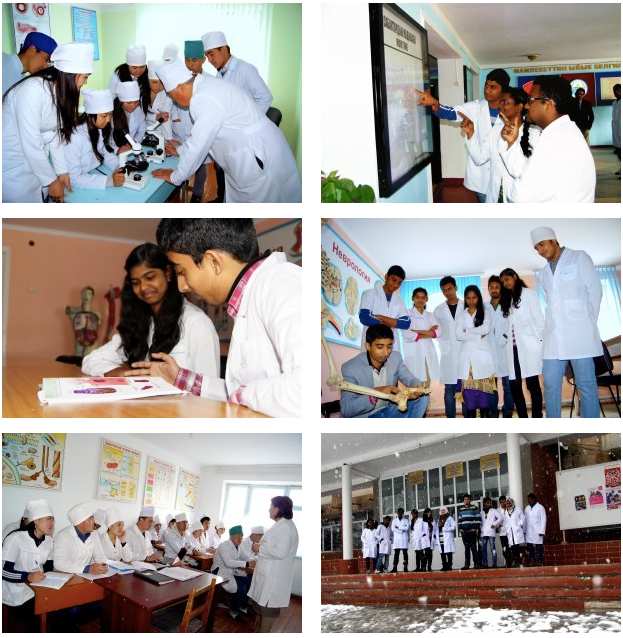 The Jalalabad State University is located in Jalalabad city which is the capital of Jalalabad region in Southwestern Kyrgyzstan. Jalalabad has a population of about 1.10 lakh. Indian students. The climate of this region is similar to the rest of Kyrgyzstan. Jalal-Abad experiences a hot, dry-summer and cold winters. There is more rainfall in winter than in the summer season. The average annual temperature in Jalal-Abad is 12.3 °C. There will be snow in the months of December, January and February while the weather is very pleasant during the rest of the year. It is a safe place for international students. Indian students have been studying here for many years now and it is not a new destination. Many batches of Indian students have already passed out from Jalalabad State University.
Following is a table showing average temperature in Jalalabad, Kyrgyzstan during the year:
Month

High / Low

(°C)

January

3° / -7°

February

6° / -4°

March

13° / 3°

April

21° / 9°

May

26° / 13°

June

32° / 17°

July

34° / 19°

August

32° / 18°

September

28° / 14°

October

21° / 7°

November

13° / 2°

December

6° / -4°
Jalalabad State University has affiliations with the following hospitals:
Jalal-Abad City Hospital
Osh Inter Provincial centre of Oncology
Osh provincial Clinical Hospital
Jalal-Abad perinatal Hospital
Osh City territorial Hospital
Jalal-Abad territorial Polyclinic
City Hospital of Infectiuos diseases
Jalal-Abad City Maternity Hospital
Jalalabad State University Eligibility
The following is Jalalabad State University MBBS eligibility criteria for Indian students:
| | |
| --- | --- |
| Entrance Exam in India | There is no entrance exam in India like IELTS/SAT, etc. NEET qualification is must. |
| Age | The student must be at least 17 years old as on 31st December of the year in which the admission is being taken. |
| Board | The candidate must have completed class 12th from a regular and recognised board. |
| Marks for General Category students | The student must have an aggregate of at least 50% in Physics, Chemistry and Biology and must have English as a compulsory subject. |
| Marks for Other Category students | The candidate must have an aggregate of at least 40% in Physics, Chemistry and Biology and must have English as a compulsory subject. |
| NEET | You need to qualify NEET from 2018 onwards for admission in abroad. NEET result is valid for 3 years from 2018 onwards for MBBS abroad admission. |
You can apply for Jalalabad State University admission through Global Medical Foundation. The entire process is online. Therefore, you can apply from anywhere in India.
The admission letter will be issued only after you provide NEET qualified result. You cannot apply in case you haven't qualified NEET. The right time to apply is in June-July. You will go to Kyrgyzstan in the month of September. Here are the documents required for admission letter:
10th mark sheet
12th mark sheet
NEET qualified result
Aadhar card or Passport
Admission letter is issued in the month of June-July. After getting the admission letter, you will have to submit your original documents with us for visa. After getting the visa, we will help you with all the remaining formalities and send you in a group with other students going to Jalalabad State Medical University.
Why Global Medical Foundation?
Global Medical Foundation is authorised for sending students to Jalalabad State University.
We have sent 350+ students for MBBS abroad.
Shobhit Jayaswal has visited Kyrgyzstan.
On-campus support for taking care of students.
Right experience to provide guidance to Indian students.
Genuine and complete information about Osh State Medical University.
100% visa guarantee.
Online Screening Test coaching option available through GMF.
Free study material, lab coat and bag to all our students.
Jalalabad State University Fee Structure
Check Jalalabad State University Fee Structure:
| Year -> | 1st Year Fees+Hostel+One Time Charges | 2nd Year Tuition Fees | 3rd Year Tuition Fees | 4th Year Tuition Fees | 5th Year Tuition Fees | Total Fees for 5 Years |
| --- | --- | --- | --- | --- | --- | --- |
| Fees in US $ | 6,200 | 3,050 | 3,050 | 3,050 | 3,050 | 18,400 |
| Exchange Rate (US $1 = ₹70) | 70 | 70 | 70 | 70 | 70 | 70 |
| Fees in ₹ | 4,34,000 | 2,13,500 | 2,13,500 | 2,13,500 | 2,13,500 | 12,88,000 |
Note:
Admission charges extra payable in India.
Conversion Rate used above = US $1 = ₹70. Kindly use current exchange rate for calculations.
Indian mess charges = USD 1,000 per year from 1st year.
Hostel charges included in the 1st year budget.
Hostel charges from 2nd year onwards = USD 350 per year.
The total budget including Tuition Fees+ Hostel Fees+ Indian Mess+ Medical Insurance for 5 years will be approx. ₹17-18 lakh for Jalalabad State University, Kyrgyzstan.