Kazan State Medical University
Call Back Form for Kazan State Medical University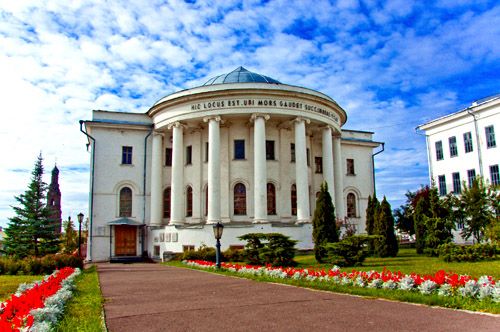 Kazan State Medical University is a government medical university located in Kazan region of Russia. The university is the 3rd oldest university in Russia being established in the year 1814. Kazan State Medical University is recognised by the Medical Council of India (MCI). This means that Indian graduates from Kazan State Medical University can sit for the screening test in India. It is also recognised by WHO making its graduates eligible for international exams such as USMLE. KSMU is one of the most popular university for MBBS in Russia.
As per the data by the National Board of Examinations (NBE), the body responsible for conducting FMGE, 450 students appeared for the test after getting their degree from Kazan State Medical University out of which 68 passed (2015-18). This means that the MCI Screening Test or FMGE passing percentage of the graduates from Kazan State Medical University is 15.11%. Between 2012-14, 18 graduates out of 138 passed FMGE after studying from KSMU.
Here is a quick overview on KSMU:
| Topic | Description |
| --- | --- |
| Duration | 5.8 years |
| Medium of Instruction | English |
| Do I need to learn the local language? | Yes, the university will give classes for the local language from the 1st year itself. |
| Climate | The temperature will be below 0° in December, January and February and between 5°-25° during the rest of the year. |
| MCI recognised university? | Yes |
| Type of University | Government |
| Tuition Fee | 3,35,000 Ruble |
| IELTS/GMAT/TOEFL requirement | No |
| Dominant Religion | Christianity |
| Degree Name | MD (Physician) equivalent to MBBS in India |
About Kazan State Medical University
KSMU is the third oldest Medical University in Russia after Moscow and St. Petersburg.
The universuty is recognized by the Ministry of Healthcare & Ministry of Education and Science of the Russian Federation.
Kazan State Medical University is a Government funded university.
It is recognized by the WHO and is listed in the World Directory of Medical Schools (AVICENNA Directory for Medicine).
KSMU is recognized by ECFMG (USA).
It is recognized by leading medical councils viz. AMC, GMC, MCI etc.
The university has 9 faculties, 65 departments and a staff of more than 1,500.
Academic year: Each academic year begins on 1st of September. There are 2 Semesters in the academic year:Autumn Semester — From September to January ,
Spring Semester — From February to June.
Vacations: All students have their vacations twice a year.Summer vacations: from July 1 to August 31.
Winter vacations: from January 15 to February 7.
Clinical training for the students at Kazan State Medical University happens at 54 units of the Ministry of Health of the Republic Tatarstan.
There are 33 general hospitals, outpatients departments, 21 polyclinics, maternity hospitals, dental polyclinics, etc. The total number of beds is around 9,000. There are approximately 4,500 therapeutic, 2,120 — pediatric, 1,500 — surgical and 440 — gynecological beds. The main hub of clinical training is the Republican Clinical Hospital. Other centers for clinical training include, Hospital of emergency care, City hospital No. 18 and Interregional Clinical Diagnostic Center.
Republican and 8 city centers of public healthcare with the specialized departments and laboratories are used for teaching and training the students of prophylactic medicine faculty. Pharmaceutical faculty uses for training its students 65 pharmacies with the laboratories in Republic Tatarstan, 18 pharmacies in Chuvashia and some commercial pharmaceutical units.
International students may live in the students' hostel or have an apartment or a room arranged for them by the university.
However, the students might find that the living conditions are rather Spartan: two or three persons in one room, eight rooms on each floor, one kitchen, two toilets, shower in the basement. Students cannot select their rooms. The number of rooms is limited, and, therefore, early applications will be given priority. The hostel rules and rugulations are extremely strict.
Rent of off-campus apartments depends on the location, size and condition of the apartment. As a rule, apartments offered for rent are supplied with furniture and basic household appliances (refrigerator, TV, telephone). Current average prices start at RUR 12,000 for one-room apartments and 15,000 for two-room apartments. Utility bills are not included in the rent.
Kazan State Medical University Ranking
As per the website 4icu.org, the world ranking of Kazan State Medical University is 5,682 as on 15 November 2019. However, as stated by Global Medical Foundation on several occasions, these world rankings have no relevance while selecting the medical university for MBBS abroad.
You must always check the MCI Screening Test or FMGE passing percentage. Get details on Bukovinian State Medical University, highest FMGE passing percentage in Ukraine.