MBBS in Ukraine for Indian Students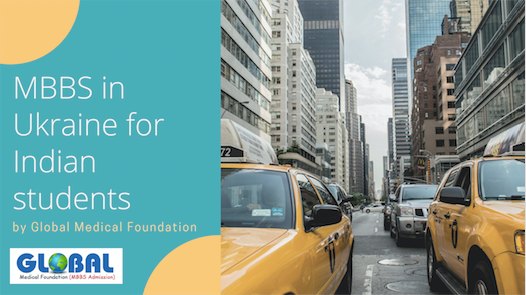 What all should you know about MBBS in Ukraine for Indian students? Here are some facts about MBBS in Ukraine for Indian students:
There are two intakes for MBBS in Ukraine for Indian students
1st intake is September-October (all universities)
2nd intake is for March (3-4 universities only)
Only those universities where seats are remaining will have March intake
The admission letters for Sept-Oct. intake will start to get issued in June-July
The admission letter for March intake will start to get issued in December-January
Indian students who have not qualified NEET will not get admission for MBBS in Ukraine
An invitation letter is required for getting Visa (GMF will get it issued)
Admission in top-universities will end by August
Admission in some universities will be open even in October
The last date to land in Ukraine is 31st October and 28th February for respective intakes
We recommend you to reach at least 5-7 days before the last date
The best policy is to reach in the month of September for MBBS in Ukraine for Indian students
All MCI Recognised Universities in Ukraine
Following is the list of all MCI recognised Universities providing MBBS in Ukraine for Indian students as on 4th April 2019:
Source: MCI Website
Cost of Books while studying MBBS in Ukraine for Indian Students
MBBS in Ukraine is the number one preference for MBBS in abroad for Indian students now and one of the most common questions they ask is the cost of books for MBBS in Ukraine for Indian students. The answer:
Indian students do not need to carry any books with themselves while travelling for MBBS in Ukraine. The university will provide books to the students according to the subjects they are taught each semester. If the student requires any additional book of a different author, then he can get the same issued from the university's library in Ukraine. In the case that any particular book in unavailable, they might still be able to get a pdf version of the same. For this reason, it is recommended that the students should carry a laptop or tab with themselves.
In this video, Shobhit Jayaswal of Global Medical Foundation is having the discussion at MBBS in Ukraine hostel – Vinnitsa National Medical University hostel. He also asks the student about the availability of temples, mosques, churches etc. in the city of Vinnitsa in Ukraine as the student is studying MBBS in Vinnytsia National Medical University. The student can find temples, mosques, etc. in the city of Vinnytsia and can practice their religion just as they do in India.
The last question asked is about the safety of women in Ukraine. As most people would know, Ukraine is a woman-dominated country. There are no issues relating to the safety of women in Ukraine as it is considered to be a very safe place for women.
Preparation for MBBS in Ukraine for Indian Students

Global Medical Foundation has sent 100+ students for MBBS in Ukraine. The advice of our owner Shobhit Jayaswal was even published on Kyiv Post. MBBS in Ukraine for Indian students is a great option, however, you need to take care of the usual stuff-
your original documents along with the invitation letter,
foreign exchange to pay fees and for yourself too, you can get dollars exchanges easily to the local currency in Ukraine,
you should get an international forex card,
keep cooker, Indian masala etc. and keep some ready to make food for the first few days, might be needed,
carry some dry fruits
keep things of daily use like toothpaste, brush, soaps, clothes, etc.,
keep medicines and if you are taking any particular medicines, then keep the prescription too,
don't keep a lot of clothes like jackets, boots, etc., purchase that from Ukraine,
do carry a laptop,
carry only the books you require, rest you will get from Ukraine,
also, carry pens, some registers, and keep some passport size photographs.
Apart from all this, the most important preparation is mental preparation. The biggest problem that the students have are these-
homesickness – The most common problem in the initial days is homesickness, however, most students get over it in 5-10 days. We suggest that students should be make up their mind and be headstrong.
unrealistic expectations – please understand that you will live in hostels and not 5-star hotels. You will have 2–3 roommates and you need to adjust. Also, you are going to study and you are not going for vacations, you need to work hard, this is just the 1st step of becoming a doctor.