Our Lady of Fatima University (OLFU)
"Rise to the top"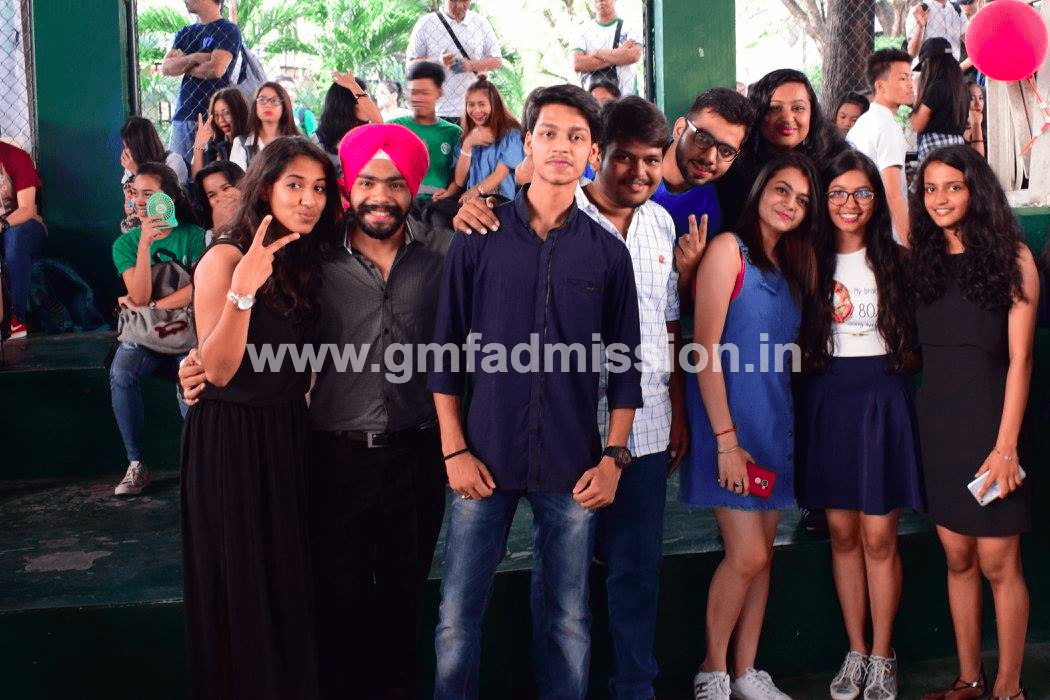 Our Lady of Fatima University is the number 1 ranked medical university in the Philippines. Formerly known as Our Lady of Fatima College, and also formerly known as Fatima Medical Science Foundation, Incorporated (FMSFI) is a private university in the Philippines.
Indian students will get admission to study in the Valenzuela campus of Our Lady of Fatima University located in Manila, the capital city of Philippine. The university concentrates mainly on allied medical sciences. Its name was derived from The National Shrine of Our Lady of Fatima or Pambansang Dambana ng Birhen ng Fatima (in the Tagalog language) near the Valenzuela campus, but is not affiliated with the Catholic Church, and welcomes students of all faiths.
Fatima College of Medicine
The Fatima College of Medicine (Our Lady of Fatima University) is the number 1 ranked medical college in the Philippines. It is one of the Philippines' most distinguished centres for medical education. Constantly responding to the rapid changes in science, technology and the social environment, Our Lady of Fatima University fulfils its commitment to produce competent, world class medical practitioners.
Fatima College of Medicine (Our Lady of Fatima University) strives to create the best environment for students to master the principles and theories of medicine and obtain sufficient knowledge and experience to launch into a successful practice.
Its the first and only Philippines medical school to have an institutional clerkship program with a foreign hospital. In fact, the University has sent over 100 medical students for clerkship training at the Brooklyn Medical centre and Peninsula Hospital in New York and Jackson Park Hospital in Chicago. Thus, creating career opportunities abroad for young men and women.
In its almost more than 40 years of existence, Fatima (Our Lady of Fatima University) has graduated more than 30,000 medical and allied medical health practitioners from all disciplines. Proof that makes Our Lady of Fatima University a valuable contributor in the development of the medical and paramedical professions in the Philippines and abroad.
The Fatima College of Medicine (Our Lady of Fatima University) is housed in five buildings where you'll find the school's lecture halls, seminar and conference rooms, research and teaching laboratories, classrooms, amphitheatre, library facilities with audio visual monitors, administrative offices of the departments and parking space.
Fatima College of Medicine (Our Lady of Fatima University) has the latest sophisticated medical laboratory equipment that meets the standards of the Board of Medical Education. Also, it has a computer laboratory equipped with internet access to facilitate research work and networking of all medical students.
Fatima Medical Centre and Virtual Laboratories (University of Perpetual Help)
At the heart of the College of Medicine lies the Fatima Medical Center which is a 200-bed hospital within the university campus. The Center is an institutional partner that serves as a teaching tertiary hospital fully equipped to give students hands on experience and exposure. It is furnished with sophisticated and cutting-edge medical, diagnostic and surgical equipment. It also houses a first class emergency room, intensive care unit, with centralized monitors, physical rehabilitation clinic, pulmonary laboratory, ophthalmology clinic and ENT clinic.
Our Lady of Fatima University creates a "hands on classroom" providing students with extensive patient care experience. An edge that could reap benefits for aspiring medical practitioners. Equipped with cutting-edge training manikins and simulators, Our Lady of Fatima University provides students excellent exposure to medical procedures giving them a competitive advantage.
Here is what a famous publications said about Fatima College of Medicine.
"For Indian students, completing their senior secondary examination with 50 per cent marks is the only eligibility criteria. In Philippines, MBBS is called the MD Programme (Doctor of medicine). Indian students who want to pursue MBBS course have to get admission for a pre-medical course first (duration of this course is 14 months), and on completion of the same, they can enroll in the medical degree. The total duration of this MBBS course is 5 years to 5 ½ year for students who have cleared Class XII with physics, chemistry, biology. The first 12 to 16 months is called the Bachelor of Science programme and focuses on building foundation for a strong medical education. This course mainly covers biology, medicinal technology, nursing, pharmacy, physiotherapy, and psychology. After the completion of this course, students can enroll in University in the Philippines.The next 4 years is the core medicine and clinical rotation. There are no entrance exams to join medical universities in the Philippines. But a few universities require students to pass National Medical Admission Test (NMAT), which consists of two parts. Part -I covers Verbal, Reasoning, Quantitative and Part-II covers Physics, Chemistry, and Biology. One of the best universities for MBBS admission in Philippines is Our Lady Fatima University which is listed in WHO, ECFSMG and MCI. You can also practice in India after registration."

Philippines, also known as the Republic of the Philippines is located in Southeast Asia. Nearby countries are Taiwan, Singapore, Malaysia, China, Indonesia and Singapore. It comprise of over 7,000 islands. The main islands are Luzon, Visayas and Mindanao. Philippines is the world's 12th most populous country with a population of more than 100 million.
Distance from India to Philippines is 4,631 kilometers. This air travel distance is equal to 2,878 miles. The air travel (bird fly) shortest distance between India and Philippines is 4,631 km= 2,878 miles.
Philippines is the 3rd largest English Speaking country in the World and an acknowledged centre for education with over 20,000+ foreign students going there each year for education in English, Engineering, Medical, Dental, Nursing, Management from over 50+ countries of the world.
The Capital city is Manila; a mega city with over 20 million population. Multiple ethnicities and cultures are found. Cultural influences are from Spain, US, Hindu & Islam. It is thought that The Philippines was part of the Hindu Java Kingdom in 13th Century. In the 14th century Islam came. From 15th to 18th century it was ruled by Spain & Catholics; followed by America in 19-20th Century, with a brief period of Japanese occupation in World War II. The dominant religion is Catholic Christianity with 93% of the country following it. 3% of the population follows Islam. A Hindu Temple and Gurudwara are located in UN Avenue in Manila.
Embassies of many country are located in Makati, Metro Manila – a distance of just 2.4 – 3.5 kms from AMA School of Medicine, Makati Campus.
Advantages of Studying MBBS in Philippines
Education standard is EXCELLENT.
USA / American pattern of Education is followed.
English is the Official Language of the Philippines.
Low fees – 75% lower than fees in Private Colleges in India.
Easily accessible from India with daily flights to Philippines.
Tropical Diseases similar to India – great for clinical training.
Indian food available.
Education gateway to countries like USA & UK.
Philippines has educated & sent 2nd largest number of foreign Doctors to USA.
Over 20,000 foreign students are enrolled in Philippines.
Highest MCI pass rate is from Philippines.
Weather: Summer is from March to May. Monsoon is from June to October. November to February is cool with fair weather. Average day temperature, is 22.2 C to 31.6 C with humidity at 77 percent.
Transport: Manila International Airport has several international flights from many countries. It is the gateway of international flights to Philippines. In Manila Buses, Jeepneys, LRT, and taxis are readily available in getting around the city.
MD / MBBS course for Indian Students at Our Lady of Fatima University, Philippines
The main campus is located in Valenzuela City, on the outskirt of Metropolitan Manila. The Fatima College of Medicine is located in Valenzuela. Always vibrant, full of energy and steaming with activity, the main campus in Valenzuela City houses the College of Medicine Building and the Allied Medicine building (AMS) where the College of Dentistry is situated. Common areas are Wi-Fi accessible. Also situated in Valenzuela is the Fatima University Medical Center that is a partner institution for the Fatima College of Medicine (University of Perpetual Help).
Another cluster of Valenzuela Campus buildings are in the vicinity of the National Shrine of Our Lady of Fatima. This location houses the college of Hospitality and Institutional Management, College of Maritime and College of Business Administration among others.
The population of foreign students exposes one to diverse cultures and likewise gives the communit y an international touch.
The Valenzuela campus has easy access to downtown Manila and metro Quezon City. Bus and taxi commutes are easy and numerous. The metro train terminals (LRT: NW to SW and MRT: N to S) are only 15-25 minutes ride from campus.
International / Indian Students at Our Lady of Fatima University, Philippines
The International Student Office is responsible for the welfare and care of international students and has a student's adviser on its staff. The International Student Advisory Service provides support for international students and their families throughout their time in Our Lady of Fatima University. The service also functions as a resource center where you can drop in for information and advice on issues such as accommodations, student visa, applications, academic problems, and life in the Philippines.
This office ensures that transitioning into Our Lady of Fatima University (OLFU) and the Philippines will be as smooth as possible. It will continue to provide support and the best services to guarantee a wonderful learning experience and, a second home in Our Lady of Fatima University (OLFU).
Our Lady of Fatima University, Philippines History
The year 1967, marked the auspicious beginnings of what is to become a premier educational institution in the country particularly in the field of medicine, nursing, and paramedical courses. It all started when Jose C. Olivares, a chemistry professor by vocation but with strong entrepreneurial spirit, and his son-in-law, Dr. Vicente M. Santos, an obstetrician, founded the Our Lady of Fatima Hospital in 1967. It soon became the primary provider of medical services to the residents of Valenzuela and its neighboring towns. With a vision of creating medical complex that will be a training center for competent health care providers, Mr. Olivares created the Fatima Medical Science Foundation Inc., and initially established the Our Lady of Fatima College of Nursing in 1973.
More curricular programs were added in the 1970s including courses in Midwifery, Chemistry, and Veterinary Medicine. More buildings were erected to accommodate the rapidly growing student populace.
In June 1979, the Fatima College of Medicine welcomed its pioneer batch of medical students with Dean Filemon T. Gozum, M.D. at the helm of the academic program. Underscoring its civic and humanitarian calling, the Fatima Medical Science Foundation Inc., established the Leonora Juzgaya Scholarship Grant, which bestows free tuition, board and lodging and textbooks to financially challenged but academically gifted medical students.
Through the years, the Our Lady of Fatima University has responded to the rapid changes in medical science and technology and the social milieu through constant modernization of its facilities and continuing development of its faculty. From the 1980s through the 1990s the country witnessed the development of OLFU with the inclusion of other courses and programs such as Physical Therapy, Hotel & Restaurant Management, Computer Studies, Maritime Education and Criminology.
In 1996, OLFU opened a new campus in Hilltop Subdivision in Fairview, Quezon City that provided the same course offerings as that of OLFU-Valenzuela.
The unrelenting and concerted efforts to establish a center of excellence in the medical sciences and other disciplines by the administration, faculty and staff of the Our Lady of Fatima College have finally come to fruition. As an affirmation of the commitment to uphold the highest standard and quality of education, the Commission on Higher Education (CHED) granted the College the University status in December 2, 2002 by virtue of Resolution No. 401, series of 2002. Dr. Vicente M. Santos, Sr. was installed as the first president of the University in solemn investiture rites held on December 18 at the main campus in Valenzuela City. After that, the university was granted Deregulated status by the CHED, a privilege given only to selected private universities.
With the status of University, OLFU in 2003, offered Bachelor of Secondary Education and Bachelor of Elementary Education. It has since then produced teachers that mentor students in private and public schools throughout the country.
In 2007, in answer to the growing demand to establish more OLFU campuses, the administration purchased and developed a 4-hectare area that is now OLFU-Antipolo. The sprawling campus provides the same course offerings as in its sister campuses.
In 2009, the Commission on Higher Education awarded the University, Autonomous Status for its accomplishments, adherence to quality assurance, and commitment to public responsibility and accountability as a higher education institution. As an autonomous higher educational institution, OLFU has attained what several educational institutions strive for but few attain.
2009 In March 2009, OLFU was granted by the CHED an Autonomous Status for its "enormous contribution to the growth and prominence of tertiary education in the country and the Asia Pacific, and for its commitment through quality education, research, and extension work."
In the same year, CHED granted the University "A (t) Status" after OLFU applied to the commission's national program called IQUAME (Institution Quality Assurance through Monitoring and Evaluation) and was recognized as a "Mature Teaching Institution" and the College of Nursing was cited as a Center of Development by the Commission on Higher Education; and in 2010, the College of Nursing was awarded Level III by Philippine Association of Colleges, Universities Commission on Accreditation PACUCOA.
2012 The University expands to Pampanga as it acquired East Central Colleges (ECC) of San Fernando which was integrated into the OLFU System. The OLFU Pampanga Campus will be opened this June 2013.
To date, the Our Lady of Fatima University has 4 campuses: Valenzuela City (Main Campus), Quezon City (Hilltop Campus) Antipolo City and Pampanga.