Angeles University Foundation- MBBS in Philippines

Angeles University Foundation was established on May 25, 1962, and was granted University status on April 16, 1971, by the Department of Education, Culture and Sports, the Philippines.
The university was made into a non-profit educational foundation in 1975, incorporated under the Foundation Law.
In 1978, the Angeles University Foundation was converted to a Catholic University.
In 1990, the five-storey, 125-bed Angeles University Foundation Medical Center was inaugurated which now serves as a private teaching, training and research hospital, the first ever in Central Luzon.
Angeles University Foundation is a world-class higher education institution and is committed to excellence in research, instruction and community service. It is the premier university in the region and is among the best universities in the Philippines. It has among the highest percentages of faculty with graduate degrees in the Philippines. These qualifications are the foundation for its quality instruction and research, evidenced by:
Institutional Quality Assurance Monitoring and Evaluation (IQUAME) certification from the Commission on Higher Education (CHED)
Accreditation by the Philippine Accrediting Association of Schools, Colleges and Universities (PAASCU)
ISO 9001-2008 Certification by TUV-SUD
Autonomous Status since 2003
Certification from the Canadian Council of Engineering Technicians and Technologists. AUF is the only university in Pampanga given the "Technologist" certification for its programs in Civil Engineering, Computer Engineering, and Electronics, and Communication Engineering programs, and "Technician (+)" certification for its BS Information Technology and BS Biology programs
Center of Excellence in Information Technology Education
Center of Excellence in Teacher Education
Center of Development in Nursing Education
Center of Development for Computer Engineering
Angeles University Foundation- School of Medicine
Street View of Angeles University Foundation, Manila, The Philippines
The Angeles University Foundation School of Medicine (AUF-SOM) was established in June 1983 by the authority of the Board of Medical Education and the Department of Education, Culture, and Sports with Dr. Rodolfo C. Dimayuga as founding dean, Dr. Presentacion C. Peralta as assistant dean and concurrently school secretary, and a faculty of 18, eight of whom boast of 20 years teaching experience.  The AUF-SOM was initially housed in the AUF San Lorenzo Ruiz Building until it was gutted down by fire in 1993. This tragedy gave way to the construction of a new health sciences building which now houses the AUF-SOM office, lecture rooms and laboratories.
The AUF-SOM was solely affiliated with Jose B. Lingad Memorial Regional Hospital for the clinical training of students until the establishment of the AUF Medical Center on February 23, 1990. The 125-bed AUFMC is the only private tertiary teaching, training and research hospital in Central Luzon which serves as the base hospital of AUF medical and allied medical students. Acknowledged for their expertise and integrity, the AUF-SOM  faculty play an active role in elevating the standards of Philippine medical education through their involvement as accreditors, technical panelists and board specialty examiners.
The AUF Doctor of Medicine program is the only PAASCU accredited program in Central Luzon. It was the first in the region given ISO 9001-2000 certification by TUV-SUD in 2008 and the only one north of Manila that is ISO 9001-2008 certified by TUV-SUD. The AUF Doctor of Medicine program has produced outstanding board performance in the Philippine medical board exam, stellar performance at the Indian Medical Council Screening Test, and a 100% pass rate in the 2014 Nepal Medical Council Screening Test. As a result, an increased number of Indian students are now enrolled in the AUF BS Psychology program leading to the degree Doctor of Medicine.
Angeles University Foundation- Eligibility Criteria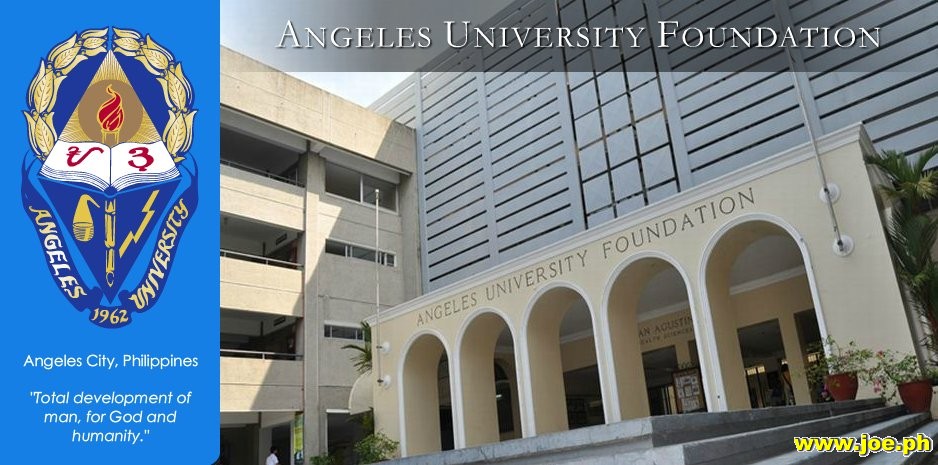 Eligibility Criteria of Medical Council of India
12th with Biology
General Category: Minimum aggregate 50% in PCB with practical
Reserve Categories: Minimum aggregate 40% in PCB with practical.
NEET Qualified if the student wants to come back and sit for the screening test in India.
Important Information about Admission & Visa process:
The Study Program at AUF, as recognised by MCI as equivalent to MBBS Degree in India, is comprise of three semesters of Pre-med and Eight semesters of Medicine.
No IELTS, No TOEFL exam required.
Visa process is very simple and will be taken care by us.
Angeles University Foundation- Fee Structure
About Cost of Education & Food & Accommodation:
The Tuition Fee of AUF is to be paid in 14 instalments, directly to University every six month.
Enjoy Highest Standard of Living at Lowest Cost in Philippines: Comfortable & Secure University Own A Class Hostel (Air Condition & Wi-Fi) (No Extra Electric Bill)
Pure Veg. Unlimited Gujarati / South / Punjabi Multi-Cuisine Food Regularly & on Time (Also includes Mineral Water & High Speed unlimited WIFI).
Food and hostel fee also to be paid directly to college every six months.
Approximate Annual Cost/Budget: If you add all the above expenses, for the whole duration of the studies at AUF, including all the compulsory expenses like Admission Process, College fee, Visa related expenses, Hostel Fees, Food Mess Charges, Text Books, Examination fees, Insurance, Air Travels etc, you can plan to spend around Rs. 5,50,000/- annually or you can say about Rs. 2,75,000/- per semester (half yearly).
No Donation, No Hidden Charges
Direct Admission through the University's own Authorized Admission office in India
Indian Food and Hostel Facility at Angeles University Foundation
Indian food is available to students at the student's hostel throughout the year. The following delicious Indian dishes are available to students:
| | | |
| --- | --- | --- |
| Roti | Puri | Simple Paratha |
| Alu Paratha | Loki Paratha | Veg Burger |
| Spinich Patis | Pakoda | Yellow Daal |
| Green Mung Daal | Idli | Dhokla |
| Upma | Poha | Patato Petis |
| Sweet Rice | Pudding | Halwa |
| Samosa | Fruit Salad | Gulab Jamun |
| Mahablanca – Coconut Milk Sweet | Ice Creame | Ice Cream Cake |
| Mix Vegetable | Bhindi | Alu Baigan |
| Alu StriBeans | Alu Gobhi | Alu Mater |
| Rajma | Rice | Fried Rice |
| Jeera Rice | Chowmeen | Chocolate Rice |
| Kheer | Chole Paneer | Potato Paneer |
| Spinach | CauliFlower with Mater Paneer | Chana |
| Apple Juice | Orange Juice | Milo Chocolate Milk |
| Tea | Banana Raita | Mango Juice |
| Water Melon Juice | Pineapple Cake | Pineapple Halwa |
| Mango Chatni | Corriender Chatni | Tomato Chatni |
| Garlic Chatni | Chili Pickel | Mango Pickel |
| Lemon Pickel | Papad | Italian Breakfast : Cheese Pamento Burger |
| Spaghetti | Pasta | Sao Pao : Chinese Bun |
| Minral Water | Coffee | VadaPao |
| Kachori | Chevda | Bhel Puri |
| Tamrind Chatni | Khichdi | Besan Kadi |
| Kadi pakoda | Fried Rice | Hakka Noodles |
Angeles University Foundation, offers fully Air Conditioned and WiFi enabled comfortable student accommodation facility.
The hostels are located inside the campus and also a few minutes distance from the Main campus.
Free Bus service between Hostels and Academic Campus.
Hostels are enabled with trained, educated and full time security guards and Hostel wardens, ensuring safe and comfortable stay of students.
No unsocial and unhealthy activities are permitted inside hostels.
Type of Rooms:

There are twin sharing, three sharing and four sharing room option.
You can choose the type of room you wish to stay in, subject to availability.

All rooms have separate Beds, study table and chair and Cupboards for each student.
Each room is attached with neat and proper Lat and Bath rooms.
Hostel charges are very reasonable and inclusive of all.
No separate charges for Air-conditions, 24*7 Wifi and no separate charges for electricity bill.
Students have to follow strict code of conduct at Hostels. There are strict rules and regulations regarding entering and leaving hostels on days and night.