17 Top Reasons (Ranked) to Study MBBS in Kyrgyzstan
Looking for:
MBBS in Kyrgyzstan Advantages
MBBS in Kyrgyzstan Good or Bad
MBBS in Kyrgyzstan 2019
MBBS in Kyrgyzstan for Indian students
Top Reasons to study MBBS in Kyrgyzstan
Every year, thousands of students are opting to study MBBS in Kyrgyzstan. Below, we have ranked the top reasons for selecting Kyrgyzstan as your destination for studying MBBS. Here are the 17 Top Reasons (Ranked) to Study MBBS in Kyrgyzstan:
The biggest reason why more than 2,000 Indian students choose to study MBBS in Kyrgyzstan is the low cost of education and living expenses in Kyrgyzstan. If you have a budget of below INR 20 lakh including tuition fee, hostel fee and mess charges, then the best option for you is to opt for MBBS in Kyrgyzstan.
Fee per year in USD
Hostel per year in USD
The second biggest reason for selecting Kyrgyzstan is a similar duration of medical studies as India. The total duration for MBBS in Kyrgyzstan is 5 years.
Most countries have a 5.8 or 6-year duration. The students who wish to save 1 year opt for MBBS in Kyrgyzstan. 
| Duration | Country |
| --- | --- |
| 5.8 - 6 | Ukraine, Russia, the Philippines, Georgia |
| 5 | Kyrgyzstan, Bangladesh |
3. Easy to get Visa
Getting a visa for Kyrgyzstan is the easiest among all the other countries for MBBS abroad as there are very few formalities and the student will not have to appear for any visa interview. The visa can also get issued in a few days when we have to do last minute admissions. In contrast, getting a visa for Ukraine, the Philippines, Georgia is not at all easy. It is easier for parents to get a visa too as E-visa facility is available.
Following is an example of the visa issued to students going to Kyrgyzstan: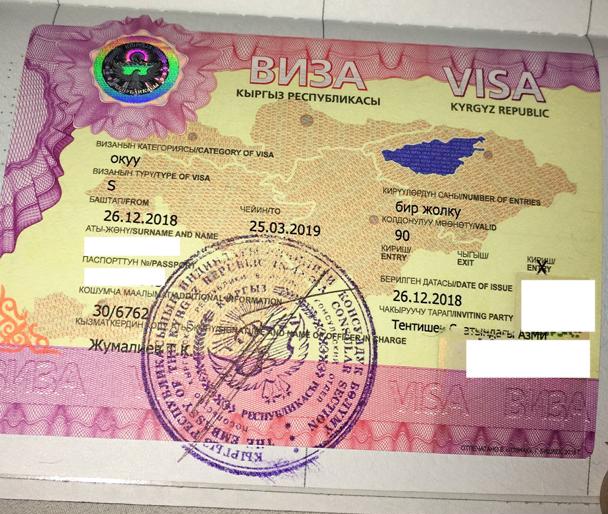 4. No Entrance Test
You don't have to sit for an entrance exam to get admission in Kyrgyzstan. Below is MBBS in Kyrgyzstan eligibility criteria:
There is no entrance exam in India like IELTS/SAT, etc.

The student must be 17 years plus as on 31st December of the year in which the admission is being taken.

The student must have completed class 12th from a regular board.

The student must have an aggregate of at least 50% in Physics, Chemistry and Biology and must have English as a compulsory subject if the student is from the General category.
The student must have an aggregate of at least 40% in Physics, Chemistry and Biology and must have English as a compulsory subject if the student is from SC/ST/OBC.
You need to qualify NEET from 2019 onwards for admission in any country abroad.

Find out more about education in Kyrgyzstan:
5. Less Travel Distance & Expenses
The total travel distance via a flight from Delhi to Bishkek (capital of Kyrgyzstan) is about 3.5 hours. This is one of the shortest travel distance. This means a low expenditure on flight cost and less number of hours spent on travelling. Even the parents can travel easily as getting a visa is easy and travel distance is very short.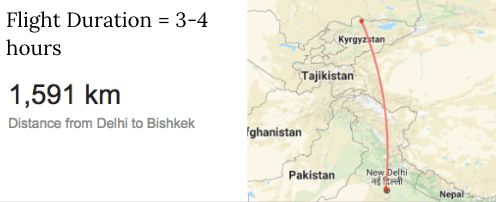 6. Easy for the Parents to travel
Since getting a visa is easy and the travel distance is very less, the parents of the students can easily travel to Kyrgyzstan if they wish to meet their ward and check his progress, well being and studies. As of now (February 2018), the e-visa facility is available for the parents. 
7. Separate Girls Hostel
Kyrgyzstan is one of the few countries where there is a separate hostel facility for girls. Most European universities do not provide this facility as most have separate floors for female students. However, most colleges in Kyrgyzstan provide separate hostels to Indian female students. The hostels are well guarded and there, have CCTV installed and have warden to keep a strict check on the students. Check MBBS in Kyrgyzstan review by Indian female students: 
9. Indian Food
All the universities in Kyrgyzstan provide Indian food. It is very difficult to stay abroad for such a long duration without Indian mess. There is mess facility for Indian students which serves both veg and non-veg food. Not only this, there are many Indian restaurants in Bishkek. Shobhit Jayaswal of Global Medical Foundation has personally visited the Indian mess and restaurants in Kyrgyzstan. Check a video of Indian students telling about Indian mess in Kyrgyzstan:
10. English Medium
Unlike most of the universities in Russia and China, all the universities in Kyrgyzstan teach the students in English medium. This benefits the students as there is no bilingual course. Some colleges even provide English classes to students who are weak in the language. The entire 5-year course is in English medium.
11. Quality Education at Low Cost
Between 2012-14, the FMGE passing percentage of students from Kyrgyzstan was 18.4%, which was the same as Russia and just less than Ukraine and China. This shows the quality of education imparted in Kyrgyzstan is on par with other countries. Check this video about a student telling about his experience in Kyrgyz State Medical Academy:
12. Small Class Strength
Students are divided into groups of about 12 students. This ensures that students get individual attention. This is opposite to the education system in India where the classes are overloaded. The lectures include 3-4 groups and only 1 group goes for clinical/practicals at a time. Know more about the education system here: 
13. Large Indian Student Base
Contrary to what many believe, Kyrgyzstan currently has about 10,000 Indian students studying MBBS. Every university has students in a good number and students from all over India are there. This means that new students will find many students from their own state. Also, all festivals like Holi, Diwali and Eid are celebrated in Kyrgyzstan. Check this video of a student from Bihar telling about his experience in Asian Medical Institute:
14. MCI & WHO Recognised
A very important thing to keep in mind before going for MBBS abroad is whether a university is recognised by MCI or not. However, this factor ranks low as most students already know about this. All the universities where Global Medical Foundation provides admission is recognised by MCI. The following video explains how to check if a university is MCI & WHO recognised:
15. Similar Exchange Rate
The exchange rate (Som to INR) is almost the same. As on 18 February, 1 Kyrgyzstani Som =
1.02 Indian Rupee. As the exchange rate is low, the cost of living and the overall cost goes down significantly for the students.
16. Hostel Facility
This topic was slightly touched upon before. All the students who go for MBBS abroad are provided with hostel facility. Students get fully furnished rooms, hot water supply, internal heating, etc., all provided by the college itself. Moreover, the yearly cost of staying at the hostel is approx. INR 20,000 – 30,000 only in general. Check this video to know about the hostel facility: 
17. Easy Admission Formalities
The least amount of fuss for getting admission abroad is for Kyrgyzstan. The admission process is very simple and documentation is less. Also, as mentioned before, getting a visa is very easy.
If you wish to take admission in any college in Kyrgyzstan, you can get in touch with Global Medical Foundation: 9899065852 / 9999404348. We can get your admission done no matter where you are in the world.