MBBS in Armenia is becoming a popular destination now for Indian students who wish to study MBBS from abroad. However, the number of students choosing to study MBBS from Armenia is still low as there are only 6 MCI recognised universities there as of 13th November 2019. The most popular university in Armenia is Yerevan State Medical University.
As per the data by the National Board of Examination, the body which conducts the FMGE exam, between 2015-18, 1,096 Indian students came back and sat for FMGE after completion MBBS in Armenia. Out of these 1,096 students, a whooping 1,047 students graduated from Yerevan State Medical University. However, it is below the number of students coming back from countries such as Russia, Ukraine, China, the Philippines, Kyrgyzstan, Bangladesh or Kazakhstan.
Below are MCI Approved MBBS Colleges in Armenia or MCI Recognised MBBS Colleges in Armenia:
These are the top medical colleges in Armenia.
MBBS in Armenia Eligibility
The following is the minimum MBBS in Armenia eligibility criteria for admission of an Indian student in Armenia:
There is no entrance exam in India like IELTS/GMAT/SAT, etc.
Some universities will conduct their own entrance exam.
The student must be at least 17 years old as on 31st December of the year in which the admission is being taken.
The student must have completed class 12th from a regular board.
The student must have an aggregate of at least 50% in Physics, Chemistry and Biology and must have English as a compulsory subject if the student is from the General category.
The student must have an aggregate of at least 40% in Physics, Chemistry and Biology and must have English as a compulsory subject if the student is from SC/ST/OBC.
You need to qualify NEET from 2018 onwards for admission in any country abroad. NEET result is valid for 3 years for MBBS abroad.
MBBS in Armenia Without NEET
Qualifying NEET has been made compulsory for MBBS admission abroad
NEET result is valid for 3 years for studying MBBS in abroad
You might still be able to take admission in some college/country without appearing/qualifying NEET.
In such a case, you won't be allowed to appear for screening test in India
Therefore, you must qualify NEET for MBBS admission in Armenia.
Armenia or the Republic of Armenia as it is officially known as is located in the South Caucasus region of Eurasia. Yerevan is the capital of Armenia and it takes about 10-12 hours to fly from Delhi to Yerevan. Recently, Armenia has become a popular place for studying MBBS for international students including students from India. One of the main question that parents have about Armenia is about its weather and religion.
There will be snow fall in Armenia is the months of December, January and February. The hottest months are of July and August where the average temperature will be 35°C. The major religion practised in Armenia is Christianity.
Also, one should note that Armenia is not a part of either the European Union or Europe. MCI only recognises the MBBS degree from Armenia and not the post-graduation degree. The students will be able to find Indian restaurants in Armenia. Indian embassy is present in Armenia and provides assistance to the Indian students.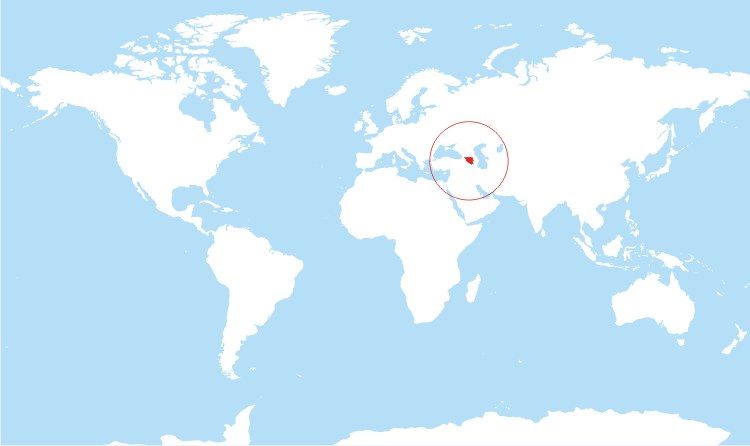 Armenia Climate
Every student wants to know about the climate of the country where they are going to study at. The climate in Armenia is highland continental.
Summers are dry and sunny, lasting from June to mid-September. The temperature fluctuates between 22 and 36 °C (72 and 97 °F). However, the low humidity level mitigates the effect of high temperatures. Evening breezes blowing down the mountains provide a welcome refreshing and cooling effect. Springs are short, while autumns are long. Autumns are known for their vibrant and colourful foliage.
Winters are quite cold with plenty of snow, with temperatures ranging between −10 and −5 °C.
Armenia Religion
As of 2011, most Armenians are Christians (94.8%) and members of Armenia's own church, the Armenian Apostolic Church, which is one of the oldest Christian churches. It was founded in the 1st century AD, and in 301 AD became the first branch of Christianity to become a state religion.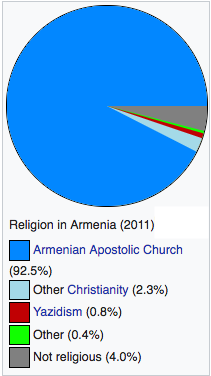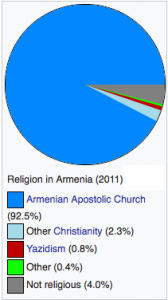 In the 21st century, the largest minority Christian churches in the country are composed of new converts to Protestant and non-trinitarian Christianity, a combined total of up to 38,989 persons (1.3%). Due to the country's ethnic homogeneity, non-Christian religions such as Yazidism and Islam have few adherents.
Safety of Indian students in Armenia
Armenia is fairly safe, secure and friendly towards Indian nationals. There is a great deal of goodwill for India. However, caution is very essential for Indian students while spending late night hours in public places and mingling with strangers. – Indian Embassy in Armenia.
| | |
| --- | --- |
| Official Language | Armenian |
| Capital | Yerevan |
| Currency | Dram |
| Exchange Rate | ₹1 = 6.65 Dram |
| Population | 30 lakh |
| Time Difference from India | -1.30 hours from India |
| MBBS in Armenia Tuition Fees | Between US $ 2,500 to 5,000 |
| Type of colleges | Both Private and Government |
| Duration | 6-years |
| Medium of Instruction | English, student will be taught the local language. |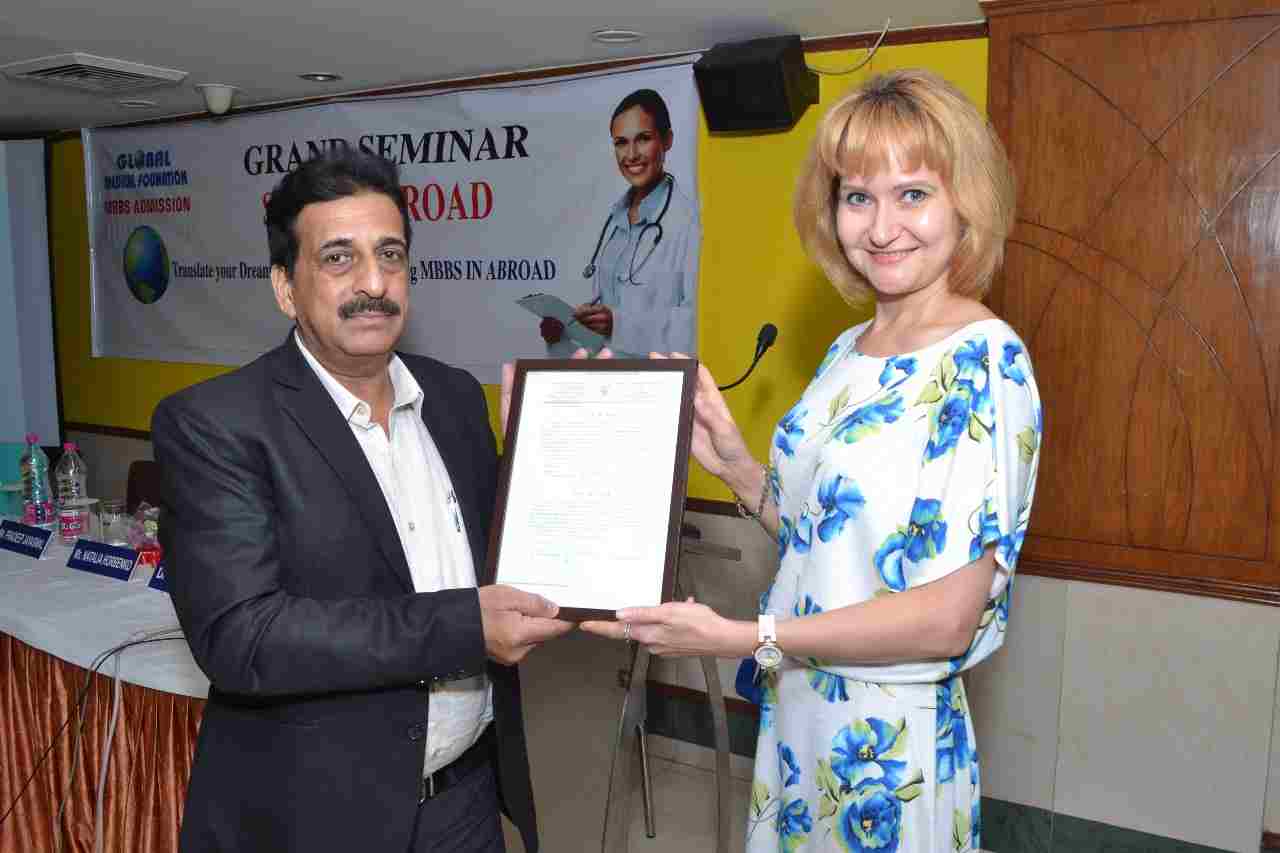 Pradeep Jayaswal
Owner, Global Medical Foundation
+91-9899065852
+91-9999404348
MBBS in Armenia Advantages
Following are the reasons for selecting to study MBBS in Armenia:
MCI Screening Test Passing Percentage
At the end of the day, clearing FMGE is the main aim no matter where you study from. The FMGE or MCI Screening Test passing percentage from Yerevan State Medical University was 22.54% (between 2015-18) which is very high when compared to the best universities in countries such as Russia and Ukraine.
Low Fee for MBBS in Armenia
The overall expenses including tuition fee, hostel and food are very low for MBBS in Armenia and the quality of education goes in the opposite upwards direction. Therefore, you get a quality education at a low cost and less duration. This is a major reason for selecting MBBS in Armenia as it provides the right balance to the students.
No Entrance Exam for Admission in Armenia
There will be no entrance exam such as IELTS/TOEFL/GMAT/SAT etc. for getting admission in a medical university in Armenia. There will be no interviews and admission is on the basis of class 12th results and NEET qualification.
MCI & WHO Recognised
The following medical universities in Armenia are recognised by MCI, which means that you can come back to India and sit for the exit test:
The following universities are recognised by WHO and can be found in the World Directory of Medical Schools: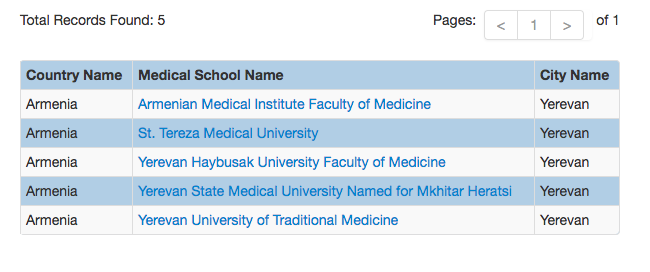 Medium of Instruction is English
The medium of instruction while studying MBBS in Armenia is English. The students will be taught the local language from 1st year onwards which will be required during clinical and also for day to day interaction with the locals.
Embassy of India in Armenia
The Indian Embassy is present in Armenia and helps the Indian students in need. It also gets easier for Indian students to seek help. The students can get themselves registered at the Embassy upon their arrival.
Easy Visa Process
Getting a Visa is easy for MBBS in Armenia. There is no requirement for the student to come to the Embassy for a personal interview and Visa process is not hectic. Global Medical Foundation will apply for your Visa and assist you in the process.
Disadvantages of MBBS in Armenia
In recent years, studying MBBS from Armenia is becoming popular among Indian students. While there are many advantages which makes Armenia an ideal option for many students, it certainly is not without any shortcomings. Most of the disadvantages of MBBS from Armenia arise when the student fails to adjust to the new place.
Here are the disadvantages of MBBS in Armenia are:
Climate: Some students find it hard to adjust to the cold climate or weather of Armenia. The temperature will be below 0° for about 3-4 months. However, even when the temperature is below 0°, the students won't have any problem when they are inside any building/car/bus. This is because all the buildings are centrally heated.
Local Language: Going to any foreign country will mean that you will have to adjust yourself according to the new country. The students are taught the local language as a part of the curriculum. If the student takes interest in the subject, then they will have a good command on the language and this will help them in their day to day life and also at the time of hospital visits. However, if the student does not show interest in the local language, then he will lose confidence and will struggle while interacting with the patients.
Duration: The course duration for MBBS in Ukraine is 6 years. This is longer than the duration in some other countries like Kazakhstan, Bangladesh and Kyrgyzstan.
European Curriculum: The curriculum taught by all European countries is excellent and it focuses on overall growth and development of the student without putting the students in immense pressure. This, however, is a problem for some students as they don't feel motivated enough. Lack of good attitude can lead to failure among students.
Cheating Agents: A lot of times, the students are being given the wrong information by the agents in India. This is why you should do research and contact only the consultancies which have a direct tie-up with the universities.
The complete duration of MBBS in Armenia is 6 years which includes the internship which is undertaken in Armenia itself.
Full course will be in English language and you will be taught the local language as well.
After 6 years, you will come back to India and sit for the screening test.
You can also appear for exams such as USMLE, PLAB etc.
Is Armenia good for MBBS?
Is Armenia good for MBBS?
Whether a country is good or not for MBBS depends on some factors such as:
FMGE or MCI Screening Test Passing Percentage
Easy availability of Indian food
English-medium education
Good living conditions
Peaceful environment
Easy admission and visa regime
Availability of Indian Embassy in the country
Good number of Indian students
Now, Yerevan State Medical University in Armenia ticks all the boxes. Between 2012-18, the FMGE passing percentage from Yerevan State Medical University has been 21.06%. There are more than 1,000 Indian students at this university. The entire curriculum is in English medium, the admission and visa process is easy when compared to EU nations. Peace prevails in Armenia and there is an Indian Embassy in the country too.
If you look at all the aspects the answer to 'Is Armenia good for MBBS is' YES!
Is MBBS from Armenia valid in India?
Is MBBS from Armenia valid in India? For a MBBS degree from abroad to be valid in India, the university must be MCI recognised. We have already seen that there are 6 MCI recognised universities in Armenia. Further:
the student must clear the FMGE or MCI Screening Test
this is to be followed by 1 year of mandatory internship in India which can be paid or unpaid
after this, you will get the license to preactice in India
Therefore, the answer to 'Is MBBS from Armenia valid in India' is YES!