In this article, we will be looking into some general questions about Ukraine MBBS degree asked by parents/students who are thinking of studying MBBS in Ukraine:
It is important to know about the value of Ukraine MBBS degree and wheather the MBBS degree is valid in India or not. Also, if you are planning to study your PG in countries like USA, UK, Australia, Canada or New Zealand, then it is important to know if Ukraine MBBS degree will be valid in these countries.
About Ukraine MBBS Degree
The degree you will be awarded after completion of your General Medicine course in Ukraine will be called MD Physician. As per the Medical Council of India (MCI), this MD Physician degree is equivalent to the MBBS degree of India.
The total duration of the MBBS course in Ukraine is 5.8 years. You will get your degree in June-July and then you will come back to India. After this, you can sit for the licensing exam (FMGE/NEXT). The existing exam, FMGE is held twice each year (after every 6 months) and after completing MBBS from Ukraine, you can sit for the December attempt. Results will be out around mid-January.
As you can see, the qualification is mentioned as MD Physician. After clearing FMGE, you will have to register with a state medical council and start internship of one year in a government hospital. The internship may be a paid internship. After completing the internship, you will get a license to practice as a doctor in India. Below is an image of the Registration Certificate from MCI. The 4th point in the 'Important Notices' reads: Foreign Medical Qualification as indicated thereof is equivalent to the basic Indian Medical Qualification M.B.B.S.
Note: We don't own these images.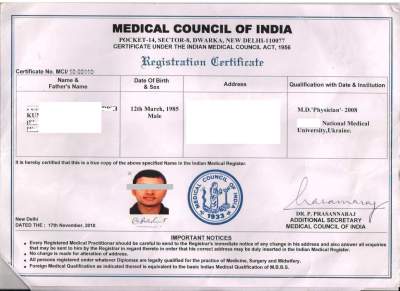 Ukraine MBBS Degree Value in India
For your MBBS degree to be valid in India, you need to make sure that you are taking admission in a MCI recognised medical college in Ukraine. If the college is not MCI recognised, then you cannot sit for the screening test. Also, from 2019 onwards, if you take admission in abroad without qualifying NEET, then you cannot sit for the screening test and your degree will not hold any value in India.
After clearing MCI Screening Test or FMGE, your Ukraine MD Physician degree will be valid in India and it will be equal to the MBBS degree of India.
Ukraine MBBS Doctor Salary
A lot of students asks us if they can settle in Ukraine after finishing their MBBS degree. The reality is that the doctors in Ukraine are largely underpaid. Average salary of a doctor in Ukraine is around $300-400 which is around ₹20-30 thousand per month.
We are sure that no one will want to work and be underpaid. It is recommended to plan well ahead about what you should do after MBBS in Ukraine.
Options after MBBS from Ukraine
MBBS in Ukraine is a great career choice as it gives many options to students graduating from these Universities. After MBBS from Ukraine, a student will have the following options:
Option 1: The most taken option is to come back to India and apply for FMGE or the MCI Screening Test as it is commonly known as. Prepare for this exam, clear this exam and get the registration number from the MCI for medical practice in India.
Option 2: After completing your degree in Ukraine, you can explore the opportunities in Ukraine itself and go for PG also, and settle in Ukraine. You can also look for work in EU nations. You need not appear for any other exam to work in most of the countries in Europe provided that you learn the local language and clear its tests. One of the most popular choices is PG in Germany.
Option 3: While studying, you can apply for USMLE Step 1 in case you want to settle down or practice in the United States. USMLE has 3 steps and those who clear all the 3 steps and get Permanent Registration from the medical council of the USA can practice there. PLAB, which is the licensing exam of the UK is another popular choice of students. Students can also go for PG in Australia, Canada, New Zeland.