Services of Global Medical Foundation
Global Medical Foundation is the best consultancy for MBBS admissions and is known for its professional and 100% genuine dealings. Our Mission and Vision states that the main goal of our consultancy is to serve our clients in a way that they get the best experience, help and support and consultancy. We believe in the saying "Honesty is the best policy" and we don't hide any information from our clients. Global Medical Foundation is based in the heart of the country, New Delhi. We have our associates all over the country and you won't have to travel all the way to New Delhi every time.
Being living in the age of technology, we have made ourselves available on Whatsapp, Skype and FaceTime (Apple users) so that our clients can reach us without any hassle.
We guarantee admissions to the students who meet the eligibility criteria and provides the right documents on time. Depending on whether the student is eligible or not, he/she can take admission in Philippines, Bangladesh, China, Russia, Bangladesh, Kyrgyzstan, Kazakhstan, Armenia and Ukraine through us.
Global Medical Foundation, has a wealth of experience pertaining to the field of education and we specialize in MBBS admissions in abroad. The working knowledge, combined with the wealth of experience with our professional consultants, the students comes out to be the winner as they get the best and most appropriate knowledge, advice and service. Being at the forefront of providing consulting services in the field of education, we do not hesitate in sharing all types of information which we know will help the student and his/her parents make the right decision.
WHY CHOOSE GLOBAL MEDICAL FOUNDATION?
Over 95% of our satisfied students.
Application Form Processing.
Arrangement of Tickets at a Cheaper Rate.
Sending Students in Groups.
Office in the Philippines with Indian Representatives.
Representative/partner in every university in Ukraine, Russia, Kyrgyzstan, etc.
Assistance in Opening Bank Account.
Issuing Visa Stamped on Passport.
Visa Interview Preparation.
Help in Procuring Foreign Exchange.
We care for our students throughout their stay for MBBS in abroad!
We provide Compassionate & Professional work!
We are honest with our clients, and provide the most reliable services!
We work around the clock to increase the horizon of our services.
We offer Quality Advice on Quality Higher Education.
Free advice on a wide range of topics from Undergraduate & postgraduate programs application procedures, visas, scholarships and many other topics.
Interviews and On spot admissions by University delegates.
Our assistance is transparent and efficient.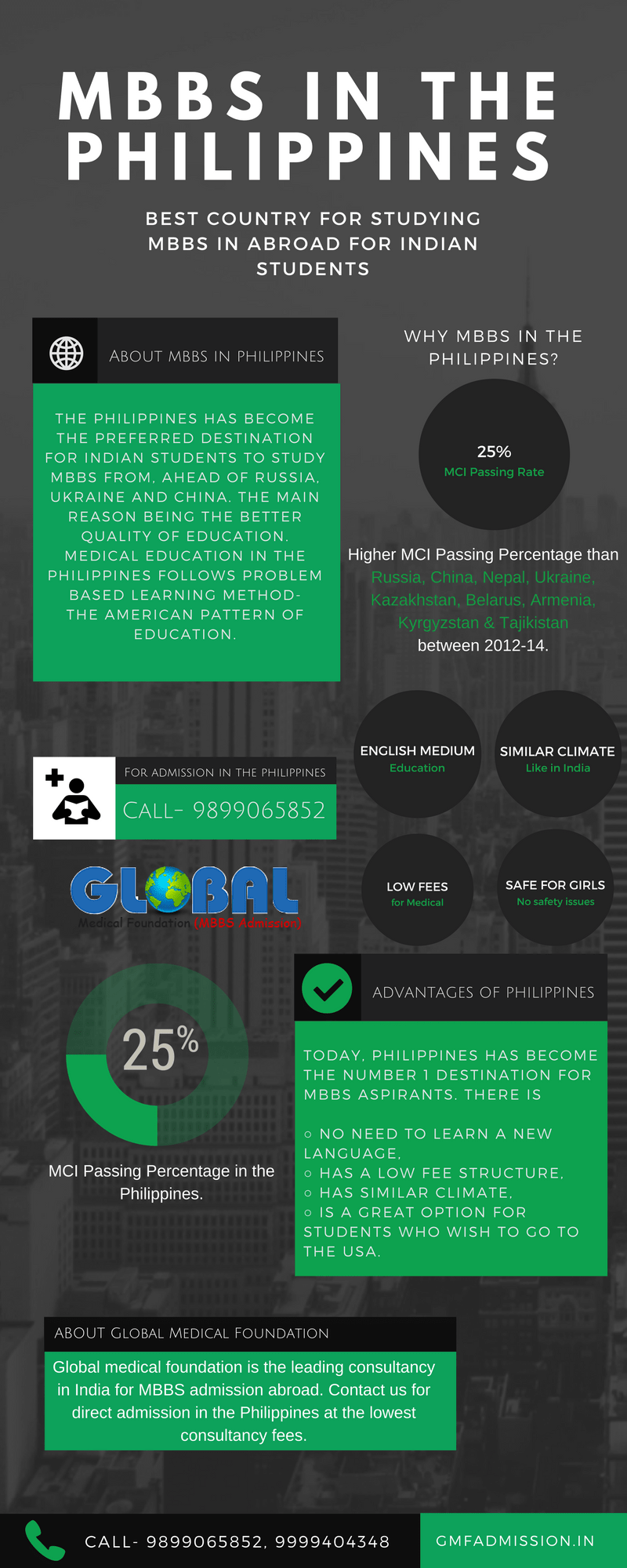 services by Global Medical Foundation
Free Counselling for the right University and
Country to meet your budget
The professional consultants of Global Medical Foundation will guide you with the right information so that you can make the right decision for your future.
Guaranteed admission if you meet eligibility criteria & submit documents on time
We at Global Medical Foundation Guarantee you admission in the Philippines, Russia, Bangladesh and Ukraine, subject to fulfilment of eligibility criteria and submission of documents on time by the students.
Admission Letter from the University
Global Medical Foundation will get your admission done by getting your Admission Letter made and sent to you from the University/College of your choice.
Accommodation Arrangement in University Hostel/PG/Flat
Global Medical Foundation's representatives will help you find the best accommodationso that you can feel at home even in abroad.
Advise on Passport application process
As a Passport is a must to travel abroad for studying MBBS, Global Medical Foundation also provides assistance for getting your Passport made.
Guidance for appearing screening test and getting MCI registration
Global Medical Foundation provides its students with guidance for appearing for the MCI Screening Test. It should be noted that there is a high possibility for a SINGLE SCREENING TEST OR EXIT TEST FOR BOTH INDIAN AND FOREIGN STUDENTS.
Provides Foreign Exchange from Authorized
Dealers of the Government of India
Global Medical Foundation will help students in getting Foreign Currency notes from the authorized dealers of the Government of India.
Overseas Travel Arrangements
Global Medical Foundation will help you in getting your Overseas Travel Arrangements done.
Medical Insurance & Health Care Test
Global Medical Foundation will help you get your Medical Insurance & Health Care Test done.
Support during the entire period of study
Students taking admission through us will be taken care of for the entire course duration. We have our own office or associates in every college who will help the students whenever they need.
Visa Processining
Global Medical Foundation has the finest service for Visa processing. We will help you get your Visa made and also prepare the student for the Visa interview.
Pen Drive with MCI Screening Test Study Material
Students taking admission through us will get a pen drive containing MCI Screening Test Material worth more than ₹1 Lakh.