June 14, 2016
Posted by:

shobhitjayaswal

Category:

NEET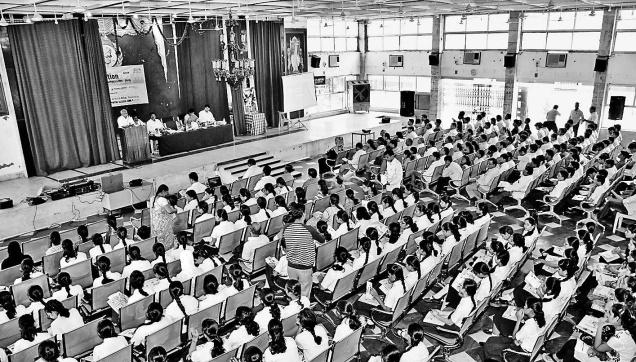 The annual career counselling and guidance session organised by The Hindu Education Plus here on Sunday turned out to be a focal point for students aspiring to join professional courses and their parents to clear their doubts about the National Eligibility-cum-Entrance Test (NEET).
Both the inaugural session and the question-and-answer-session held at the Doddappa Appa Auditorium were dominated by questions related to the NEET and about the career options available in courses other than medical and engineering streams.
Member of the Central Council of Homoeopathy P. Sampath Rao, who is also senate member of Rajiv Gandhi University of Health Sciences (RGUHS) spoke at length about the NEET and the Supreme Court judgement making the NEET compulsory for entry into medical and dental colleges.
Answering a volley of questions from students on the NEET, Dr. Rao said that the NEET was here to stay and admissions to private medical colleges, deemed varsities and private universities running medical colleges would be through NEET only. Apprehensions that students from other States would gobble up the seats available in medical and dental colleges were unfounded. He said that except the 15 per cent seats reserved for the all-India quota, the remaining would be filled by students from respective States.
Prof Emiritus of RGUHS and senior medical teacher P.S. Shankar, who inaugurated the session, said that students should look into career options other than medical and engineering courses and pointed out that there was a serious shortage of manpower in the teaching profession, particularly in science education.
Students should give a serious consideration to pursuing basic science courses while shaping their academic career. An undergraduate degree in medical and engineering courses would not be enough and the students would have to take up postgraduation and specialisation and upgrade their skills before settling in their careers.
Sangeetha Kattimani, representing the Karnataka Examinations Authority (KEA), gave an insight into the modalities that would have to be followed by the students appearing for CET counselling and the records that were required to be produced. She also said that the students from the region should make the best use of the reservation facilities available under Article 371 (J) in getting admission to best available colleges.
Human resource expert Tanveer Ahmed kept the jam-packed audience glued to their seats with his power-packed presentation on the avenues available in higher education and said that the students should assess their strengths and weakness while choosing their career options and should not succumb to pressure while choosing their career options.
Baath Reddy, chief executive officer, Navodaya Education Trust, provided details about the opportunities available in engineering courses and senior gastroenterologist Shivanand Patil replied to the questions posed by the students on the options available in the medical stream.
SOURCE (INCLUDING IMAGE): THE HINDU