December 16, 2019
Posted by:

Shobhit Jayaswal

Category:

mbbs abroad, MBBS in abroad, MBBS in Ukraine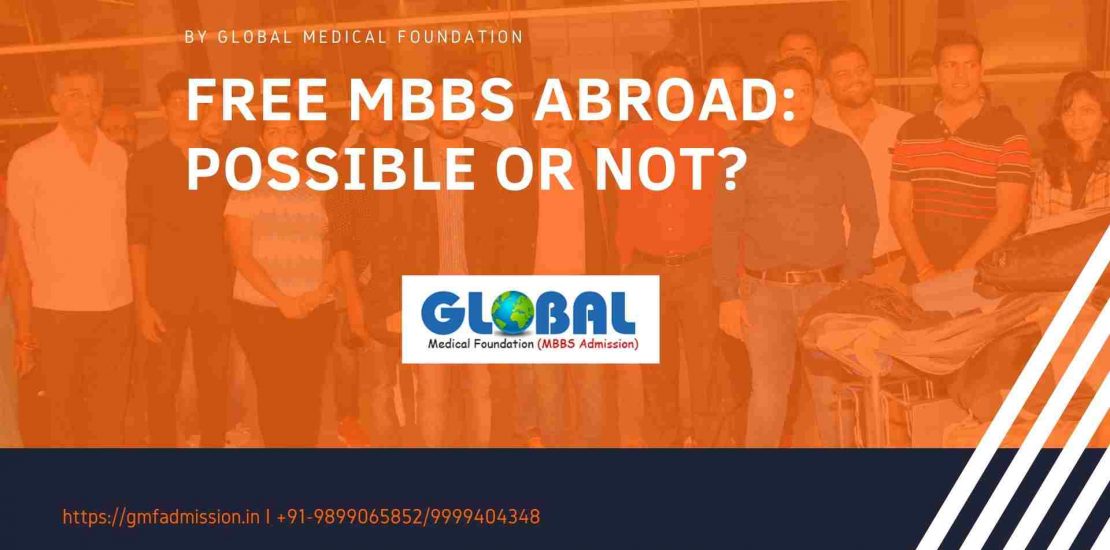 Free MBBS Abroad: Is it real?
A lot of people enquire and search for 'Free MBBS abroad'. If you are looking for an option to study MBBS abroad for free in countries such as Ukraine, Russia, Kyrgyzstan, Kazakhstan, China, the Philippines, Bangladesh, Armenia, Georgia, Nepal, Belarus, Bulgaria and countries in the Carribean, then, unfortunately, such an option is not available.
However, the tuition fees for MBBS abroad is very low when compared to the cost of studying MBBS in India.
If you look for 'cheapest MBBS in the world', then the lowest fees is ₹11.20 lakh approx. This is the total tuition fee for 5 years. If you include hostel and mess fee too, then then the total budget will be about ₹17-18 lakh approx.
There is nothing like Free MBBS abroad, however, if your budget is between ₹17 lakh-35 lakh, then you will have a lot of options to choose from. You can call Global Medical Foundation for MBBS admission abroad.
Scholarship for MBBS abroad
The truth is that there is no scholarship to study MBBS abroad. By definition, a scholarship means –  "a grant or payment made to support a student's education, awarded on the basis of academic or other achievements". For most people, a scholarship would mean a relaxation of a significant part of the fees, this is unfortunately not possible. Either the parents of the students will finance their studies or you will require an education loan.
However, Global Medical Foundation is providing a small scholarship to the students who wish to study MBBS in Ukraine.
Check MBBS in Ukraine Scholarship