August 1, 2016
Posted by:

Shobhit Jayaswal

Category:

NEET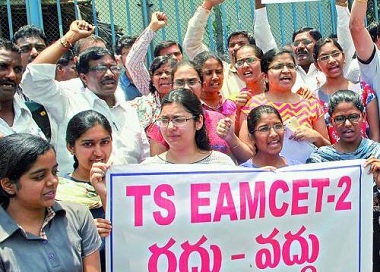 Now that the EAMCET 2 has been scrapped following the paper leak row, Telangana govt is expected to release the notice on EAMCET-3 today on August 1st.
The state government has decided to cancel EAMCET 2 (medical) considering the question paper leakage. As of now, the state government has took the decision to conduct re-examination by the end of August 2016. Fresh notification for the same will be released soon by JNTU Hyderabad.
Telangana government is expected to release the detailed notification for schedule and developments on EAMCET-3 on Monday as time's falling short for medical aspirants for admissions in this academic session.
The Telangana CID sleuths arrested Sanikam Rajagopal (65), the key broker in the EAMCET-2 question paper leak case, in Bengaluru on Saturday. He organised a camp in Bengaluru where 14 students from Hyderabad and six from Vijayawada practiced on mock EAMCET (medical) question papers. He has collected Rs 1.25 crore so far from brokers in Hyderabad and Vijayawada. The police also arrested one Arigi Venkata Ramanaiah, a native of Krishna district.
The fate of TS EAMCET 2 was decided by the chief minister K.Chandra Shekar Rao in a four-hour long meeting with the officials of higher education, law, police and intelligence departments. Director General of Police Anurag Sharma and CID officials submitted the report on the scam. According to the CID officials, the question paper leakage has benefited about 138 students. Hence, the TS EAMCET II cancelled news is out.
Students have gone through severe trauma about the EAMCET examination. The phase 1 entrance test was conducted on May 15th for engineering and pharmacy candidates and the state government organised EAMCET 2 for medical aspirants on July 9th, 2016 after the NEET issue was resolved. The results of the second phase exam were declared on July 14th. About 2.5 lakh students appeared for the TS EAMCET examination conducted in Telangana state.
On the other hand, parents and students are demanding justice on the paper leakage scam. The state has seen severe protests on Friday about this issue. The government is yet to announce the new schedule of EAMCET 3 through JNTU-H. According to reliable sources, no exam fee will be collected for the re-exam from the students who took the EAMCET 2 examination.
After Bihar and Karnataka question paper leak scams, its Telangana now. The victims are the innocent students who put all the efforts to succeed in exams. However, the governments should take stringent action to curb such cases in the future.
SOURCE: http://examswatch.com/eamcet-2-paper-leak-fallout-and-eamcet-3-notification-in-development/